Woodside offers a large number of clubs for students to join, with one new club this year being Smash club.
Smash Club is a club dedicated to playing the 2018 video game Super Smash Brothers Ultimate. Smash Club was originally called the E-sports club but it transitioned into Smash club so it was more specific and so more people could bond. Caleb Ortiz, a junior and president of the club revamped the club this year to create a space where everyone could join.
"We wanted to make a safe environment and fun place for everyone to just play," Ortiz said.
The club welcomes all people interested in playing Smash and had incredible growth this year. Last year it had around eight members, now over twice as many.
"Currently, we have over 20 [people] and we just reached 25," Ortiz said. "We're almost at 30 I think."
With a large group of people interested, the club moved to a bigger room and has more video game setups with different setups for varying levels of experience.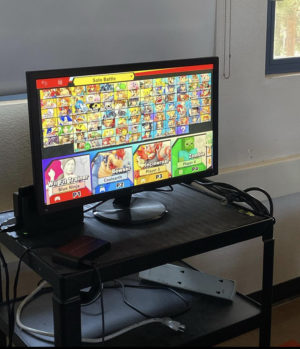 "As a competitive person myself, we have separate setups for people like me who play it more competitive, [but also] we have another setup that is just casual -so you could have fun with it," Ortiz said.
Smash club is focused on getting people to play together as they welcome everyone with different skill levels. They currently meet Tuesdays and Thursdays in A-3.
"As much as it seems like a club where we just play games, it's also just as much of a social space," Ortiz said. "So if you're looking to have fun, play smash, and meet some new people, then come along!"