The Clay Club molds new forms of creativity
Members of the clay club learn new skills and make crafts that they can use to benefit their peers and themselves. They meet every Tuesday, at lunchtime, in C-14. 
Students will be provided with a variety of confidence-building activities as members of the Clay Club. The club's new president, Eva Arteaga, is excited to start working with the club and help others improve their ceramics skills.  
Sophomore Eva Arteaga is excited to learn new things and take on new responsibilities in Clay Club.
"I'm new [to] ceramics," Arteaga said. "I've been doing it for a little while. It's really fun. I'm not that good, but I still really enjoy it. It's nice for people to do something hands-on [and] creative and get an outcome they like."
Clay Club is a place where students can learn how to make tools by working with clay. They can learn about the different kinds of tools that are used in the ceramics room. 
"In this club, we are mostly just working on ceramics, Arteaga said. "So with clay, whether they want to hand build or use the wheel, it's mostly just for creativity, [because] people can do whatever they want."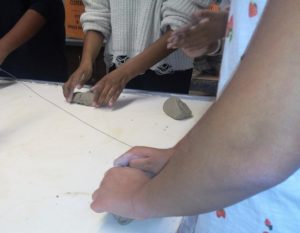 The Clay Club encourages creativity while learning new basics in the club. 
"I mostly want to let people have some creative leeway," Arteaga said. "We'll be showing them how to do the basics, and more. The [SIOP] is [also] helping me, [so] we'll be able to achieve that." 
Ceramic art is a great way to express yourself artistically. It allows people to create beautiful pieces of art that can last forever.  
"They can learn more about themselves. "When I got introduced to ceramics, I didn't know I liked it. But now I like it. And so they can learn more about their creative side of themselves."