Latin Club Keeps Ancient Rome Alive
Through an eclectic mix of classical appreciation and modern pop culture, Latin Club continues to be a fun way for students to come together at lunch and explore the ancient world. 
Latin club meets every Monday in B-11 during lunch. Advised by Latin teacher Alan Eaton, the club participates in a variety of Latin/Roman-related activities throughout the year, including Roman Halloween, Saturnalian (Roman Christmas), and more. 
"The big deal is just to have activities that relate to the classical year," Eaton said. "Like the seasons, and the different events that went on in the Roman calendar."
Mr. Eaton enjoys putting a modern twist on ancient Roman traditions. 
"I generally like Lupercalia, when we get to make the Roman version of Valentine's Day," Eaton said. "We don't do what the Romans did, which was [not fit to print]. We essentially make Valentines and fill them with decorations and clipped paper."
In addition to seasonal events, Latin Club works on a variety of projects related to classical art and culture. 
"We do lots of games and competitions," Eaton said. "Art activities are a part of the club's experience year in [and] year out, because those are just fun."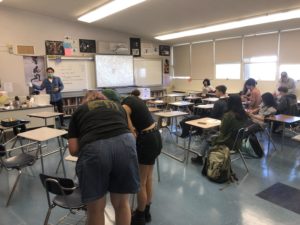 When asked why students should join Latin club, Eaton had a simple answer.
"If they have a free lunch and they want to have fun—that's a great reason," Eaton said. "I'm not much of a proselytizer.* I think people should do what they want. I know that the people who are here have a lot of fun together. For me, that's reason enough to continue doing it."
*proselytize: to advocate or promote (a belief or course of action)