A brand-new debate club has been created by co-founders Tessa Niu, Justin Lee, and Jessica Lin, open for anyone who wants to learn about building an argument.
This new club meets every Tuesday in C-16, where people can learn to debate over a wide range of topics while enjoying their lunch. The three co-presidents and founders of the club want everyone to feel comfortable and welcome. 
"We try to be accepting, and we try to go at a speed where everyone in the group can participate and can learn without being stressed," Lin said. 
While presidents Niu, Lin, and Lee work to create a safe space for everyone to come and have fun, they are also cultivating the element of lively debate. 
"Come in with an open mind," Lin said. "We are really starting off fresh, brand new. I'm not going to say we don't know what we're doing, but we're still figuring things out. People who are joining should be open minded to the conversations that are going to be held. Debates are different than arguments. Arguments are when you debate with emotions, whereas debate is where you do research."
The presidents have wanted to create this club since freshman year, but haven't been able to due to other commitments and the Covid-19 pandemic. Niu also saw that many other local schools have debate groups, and thought we should have one too.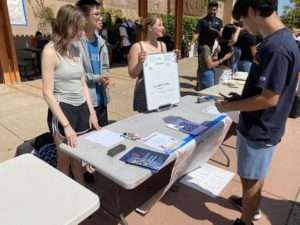 "I just like arguing," Lin said. "So when I went we should have a debate club here at Woodside. And Tessa said we should. And then Justin, a month later, said we should do a debate club. I said we should all just do it together."
Clubs here at Woodside range from very low commitment, to high commitment. The debate club is not sure where they want to fall in this range but currently want to have the atmosphere feel low commitment. 
"We hope to go to some local [debate competitions/events] this year," Lee said.
While they want to go to some local competitions, they don't want to do anything too serious or too much work. 
"We want to build a community that is able to have conversations about hard topics and easy topics," Lin said. "[We want] to be open minded when we have those conversations, because communication is very key in society. If we can build it from like a small group here at Woodside, we can further that out to the rest of our community."