With over 300 tickets sold so far, Woodside is hosting the home-opening "Redwood City Rumble" football game against cross-town rival, the Sequoia Ravens, this Friday.
"It's one of our most important games both for the motivation within the team itself but also a statement to show how Woodside has really stepped up our game this offseason," Varsity football co-captain Adrian Soltero said.
Last year's "Redwood City Rumble" resulted in favor of the Ravens with a score of 53-0, giving the underdog Wildcats a year to improve and elevate their gameplay.
"I'm very confident in the team we have," Soltero said. "We are young but highly motivated, confident [and] I feel like this game is very winnable."
Last year, the Redwood City Rumble was hosted by the Ravens on Terremere Field. This year, Woodside is hosting the historic game on the Wildcats' home turf, Bradley Field at 7:00 pm.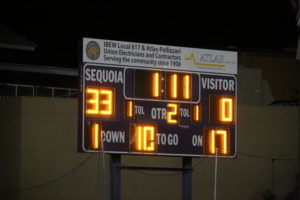 "This is the best game, and [has the] biggest turn out of fans every year," Soltero said. [The stands are] packed, sold out, and the rivalry is amazing. [That's] what makes this [game] even better, it's in our home, at Woodside."
Given the history between Sequoia and Woodside, supporting the competitive nature of this highly-anticipated football game bestows the team with confidence and more motivation to emerge victorious.
"The Redwood City Rumble is a big part in Redwood City's history with football; it's two teams that don't like each other one bit," Soltero said. "We're really counting on the student section this year to be a lot better and to have more spirit."
Engaging with school spirit is one of Woodside's student government's goals this school year. This game is the first opportunity for students to demonstrate their interest, and pride in Woodside by participating in spirited events.
"The theme of the game is blackout or blackout," Board of Student Affairs (BOSA) President Lorenzo Pepe said. "Students should dress up for the game to show the football team support and help Woodside's overall school spirit."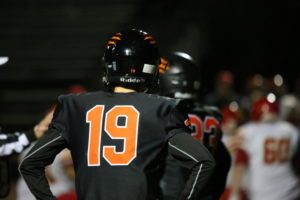 In order to encourage school spirit participation, the student government is taking steps further to leave students with no excuse to show their support.
"BOSA has used part of the school funds to create and distribute bandanas with a wildcat logo to be given out to students in the student section," Pepe said.
As the first official week of school comes to a close, the spirit, and energy of the "Redwood City Rumble" will set the tone for future games. Regardless of the outcome, both teams anticipate an entertaining game that no Wildcat nor Raven should miss.
"I think it will be a competitive game for sure," Varsity co-captain Joseph Artale said. "This game is so important because it is essentially saying who the best team in Redwood City is."