Students prepare for the end of an era
Music department's Mr. Tolles retires.
If you've walked by the music room recently, you will have noticed that the once vibrant walls filled with images of musicians and opportunities of scholarships have all been taken down. If you venture a bit further into the music office, you'll notice that the only items which remain are a gray chair, a wooden desk, and a single image of our school marching band. The announcement has been made, preparations are on the way, and Music Director Mr. Tolles is retiring. 
The news of Mr. Tolles' retirement came about some time ago in March, when music students returned from their weekends and were in fifth-period band class on a Monday morning. Mr. Tolles had just congratulated students on their practice, and there seemed to be a noticeable change in the atmosphere of the class. Tolles asked students to put their instruments down, and listen to the few words he had to say. Tolles then announced to the class that he was preparing to retire, stating that he felt this was the right time to tell students. 
"I was kind of shocked at first," junior and percussion section leader Connor Engel said. "Now that I think about it though, the announcement made sense. Mr. Tolles said that he was considering telling us after our Christmas performance, but he didn't want to ruin the accomplishment. So him telling us now was his way of ending off on a high note."
Knowing that students had time from the beginning of March to the end of the school year, the music department grew closer. Work efforts commenced and full cleaning of the band room was ordered.
"Mr. Tolles asked us to clean the upstairs storage room, so a few other students and I decided to go in during tutorial and move some things around," junior and trumpet player Caden Webster said. "We even added photos of previous classes, and also put up trophies that were discarded in boxes. I'm really happy with how everything turned out."
Other preparations including an awards ceremony were planned, with the Music Boosters even dressing Tolles in a cap and gown.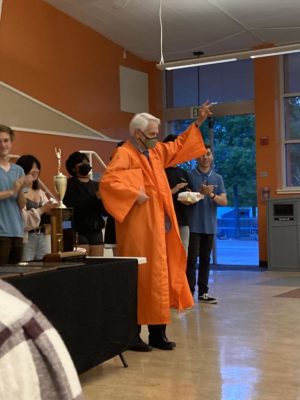 For many seniors, the realization of seeing their beloved teacher in a cap and gown is eye-opening, for others, it can only be described as bittersweet.
"It's bittersweet, because I wish the best for him, and he definitely deserves a good retirement because he's done so much," junior and oboe player Kira O'Grady stated. "But at the same time… we're gonna miss him a lot." 
With Tolles having what many students are calling his proper send-off, some wonder why Tolles decided to retire now.
"My friend Bruce Weinberger and I got into teaching together many years ago," Tolles stated. "We went to college together, we decided that we were going to both be in the teaching field, and we ended up teaching more than just band. He retired a couple of years ago, and got me thinking [about] my own retirement. We decided we would get into it together [and] we got out of the profession together." 
Other students wonder what a retired musician with over forty years of musical experience will do in his free time.
"[My wife and I] are going back east during the summer to Annapolis and Maryland, where my son is currently in the Navy band," Tolles said. "We'll see some parades with the band, and then do some exploring of the East Coast cuisine. [There's] a big lobster culture back there, and it's a particular favorite of mine."
While Tolles is excitedly looking forward, he would also like to remember his fondest, and subsequently final performance.
"I would just have to say this year's spring concert is so strong that it ranks up there with one of the best concert experiences for me as a director in all my years of teaching," Tolles stated.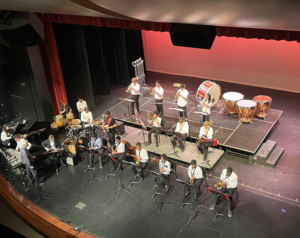 Tolles simply desires to be remembered for his hard work, as he has said time and time again.
"My biggest accomplishment is creating a program where everybody is aware of each other and holds each other accountable," Tolles stated. "I've tried to stress the importance of having a good and all-around music program, and it really shows. School comes first, and I'd like to think that I was successful in getting our students to buy into that as well."
Tolles' final words to music students and anyone wanting to become a future musician are simple, yet impactful.
"Continue on," Tolles said. "I will go out of my way, for anybody that wants to become a musician."