SUHSD's new superintendent looks towards the future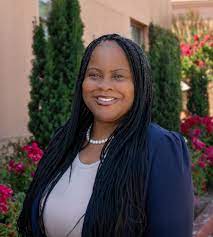 Dr. Darnise Williams is the new Sequoia Union High School District (SUHSD) superintendent as of July of 2021.     
Before working as the superintendent at SUHSD, Dr. Williams worked in Los Angeles. Over many years, she taught English at both middle and high schools and held a senior-level administrator role. Dr. Williams became superintendent at a difficult time when schools had to find ways to get students back in person while protecting their health.  
Dr. Willams explains why she wanted to become the superintendent. 
"As Superintendent, I have the privilege of serving our students and staff in ways that are formative and life-changing," Dr. Williams said. "I feel honored to be able to build relationships that support learning and growth with students, families, staff, and the community. I knew this would be a life-changing opportunity for me as well."  
 The principal, Karen Van Putten, was impressed with Dr. Williams when she met her for the first time.  
"She has embraced the school district and is supportive of site principals and all the work that we're doing to keep kids safe and operating," van Putten said. "Considering the COVID situation, since the moment I've been hired in July and meeting her before the school year began, all my interactions have been very supportive."   
Edith Salvatore, the president of the Sequoia District Teachers Association, also praises Dr. Williams' work. 
"I think she has an ambitious vision for the District, but I think she has wisely given herself time to get to know our history and our goals and dreams for the future as well, rather than coming in and imposing her perspective," Salvatore said. 
Dr. Williams also wants to promote diversity. 
"My goal as a Superintendent for this year is to continue to lead our district in providing a quality education that is equitable, promotes diversity and inclusive practices in the classroom, and best positions our students for academic and professional success," Williams said. 
Another one of the new superintendent's goals is to make sure that all students have access to quality education. 
"I know that equity work throughout our district is really important to her, and we have had some groundwork prior to her arrival," van Putten said. "I definitely know that all students learning and having access to a full education is very important to her."