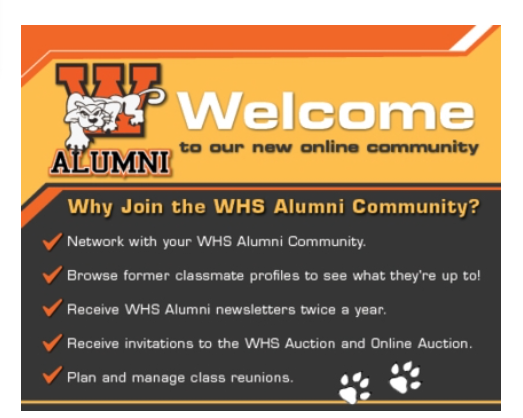 Woodside's alumni community is now set and ready for graduating seniors to sign up!
The alumni community is a group of alumni from each class that plan class reunions, network, and catch up with their classmates to see what they're all up to. Past alumni use it as a way to keep in touch and learn about what others are doing after High School.
The alumni community usually sends two newsletters every year. One is sent in the fall and one in the spring. Past alumni newsletters can be found on this website:
https://www.classcreator.com/Woodside-California-1962-2022/latest_news.htm
In the past, seniors who sign up get entered into a raffle where they can win a $100 gift card. Seniors who are interested in the newsletter can sign up here:
https://lp.constantcontactpages.com/su/f7Dy9kt/whsalumni
In addition, there's also an alumni website students can sign up for. The website alerts people of future reunions, and it's a good way to network with graduating seniors in your class. On the website, there's also a class galleries section where you can see a bunch of photos from your class.
In order to join the Alumni website, a login and password is needed. Creating an account allows you to create your own profile as well.
A lot of Woodside's alumni are currently signed up and it's a great way to keep in touch with people in your grade.
To learn more about the Alumni website, read about the instructions here: