Fashion Club back in style
The fashion club has been revamped and meets on Thursdays at lunch. Members meet in C-11 to discuss current and future fashion trends. The current topic is fashion for prom.
Molly Smith, president of the fashion club,  will give a lecture about prom dresses and fashion trends.
"We're going to start doing meetings focused around prom, which hasn't been done before, and we're gonna be talking about prom dresses, prom trends, [and] all sorts of things like shoes, jewelry, hair," Smith said.
Smith creates weekly slideshows for the club's members to view. 
"Molly [smith] puts together slideshows of popular clothing and fashion trends. As a group in the club, we look over them and discuss them," Denise Lipiansky, club advisor, said.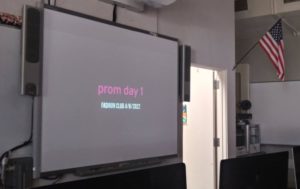 Senior Luca Calvillo took part in the fashion club to stay current with fashion trends and styles.
"I joined the fashion club because I like talking about fashion and debriefing trends popular today with our generations," Calvillo said. 
Junior Alex Hernandez attended the club for the first time and is excited to learn about fashion.
"The reason I attended today is [to] see what fashion [is] all about," Hernandez said. "I don't have a clear sense of what fashion is." 
The fashion club is trying to find new members and rebuild the club to keep it going.
"We had a president at the beginning of the year who had a lot on her plate," Lipiansky concluded. "So understandably, she had to step down from the position, which means we did lose a lot of our participants. We have a new president now with new energy, and we are making an effort to build the club back."