Fashion at Woodside: Students express diversity through style
Walking around Woodside, we see students in a variety of styles. Some people are dressed in baggy jeans and a sweatshirt, some in bold colors, dyed hair, platform shoes, 90s fashions, and much more. From clothes to accessories to makeup, Woodside students use fashion and style as a way to express their personalities and diversity. Fashion represents a personal choice and uniqueness for every individual.
With a wide variety of students around school comes a wide variety of outfits. Some come to school every day in a new and tasteful fashion style. Dressing up at school provides students with an opportunity to use their sense of colors, shapes, and patterns.
"The style I usually go for is vintage-like 70s looks or sometimes chic streetwear," senior Jake Vaughn said.
Certain students express their style with colors depending on their mood and wear vintage menswear outfits.
"I guess my style is kind of like vintage menswear. I like to combine alike colors sometimes [and] just what I'm feeling," Nia Nau, junior, said.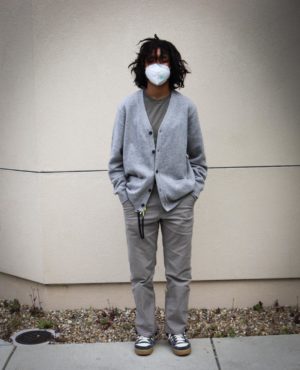 While some students express themselves through clothes, others explore with makeup. 
"I really like makeup," junior Sierra Pestoni said. "I'll experiment a lot with it, usually on weekends… I like to draw different shapes and different patterns on my face. For Valentine's Day, I drew a lot of hearts around my eyes, and I love colorful eyeliner. I definitely think that's something everybody should try, and it really compliments the tones and the skin and the size."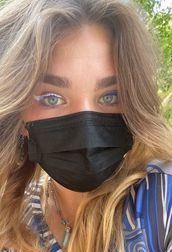 With the constantly changing fashion industry, buying clothes and keeping up with the trends can be a challenge. Many students thrift from places such as Goodwill and Savers as well as online apps to buy secondhand clothes.
Among the many fashion marketplaces where the new generation discovers unique clothing is Depop. The purpose of Depop is to make fashion more diverse, inclusive, less wasteful, and helps the environment.
"[I shop at] thrift stores or [on] Depop, just because you can find anything," Nau said. "It's used or secondhand, [and] it's better for the environment."
Others like thrifting because of the variety of styles and clothing pieces. 
"I love thrifting because you can find a lot of unique pieces there. I also like shopping [at] small businesses online," freshman Maggie Arana said.
Students say that fashion sometimes will improve their mood during a day, and sometimes they just wear what is comfortable.
"My style is reflective of how chill and confident I am," senior Brynn Adsiewicz said. "Fashion isn't that important to me, but I like feeling good about how I present myself. I just like to express that I'm a very chill person that isn't focused on material items."
While graduating this year and being a senior at Woodside, students wear whatever is comfortable to get work done.
"I wear whatever is comfortable. I think being a senior, just like at this point I'm coming to school just to get work done so I wear whatever is comfortable or a lot of neutral colors," Parker Carter, another senior, said.
Sometimes it is hard to look in your closet and piece together the perfect outfit, so students often look to social media to find inspiration for styles and outfits.
"Fashion models on Instagram, I get inspiration from them usually… Scarface and own garments have a ton of good style," Vaughn said.
Students' outfits at school are also inspired by their friends and pieces of artwork they see.   
"A lot of my friends [gave me inspiration] because I love seeing people who [are] really out there because it inspires a lot of confidence," freshman Marion Harper said. "Other people [are] really out there to make fun of fashion, and it's nice to see people being confident [with themselves]."
Rather than finding inspiration for outfits from others, junior Skylie Maher forms their fashion ideas from interesting designs she sees.
 "I just get [my] inspiration [from the] art I see. I think once I see any really good art piece anywhere/in everyday life … I instantly try to think of how I can find a way to put that [design] on my body," Mather said. "Even if that just means the same color scheme."