Local teens expose illegal working conditions
Teenagers are being exploited in their workplaces, and work permits are doing little to mitigate the problem.
High school students get jobs for many reasons, such as saving money for college, helping out their families, and simply making money to spend. With that said, however, student employees face a variety of problems while working. These problems include being forced to work more hours than permitted, working in dangerous environments, and being below minimum wage. 
The minimum wage in San Carlos in 2021 was $15.24 an hour for businesses with more than 25 workers. A certain student, who wishes to remain anonymous, made nearly two dollars less than minimum wage in 2021 until their place of work was reported to officials by the parent of another teenage worker at the establishment. 
"[I made] $13.25 an hour for six months probably," a student guest services employee at a bakery in San Carlos said. 
In addition to making less than minimum wage, this student worker was encouraged by their employer to work more than the allotted four hours per day for students under the age of 18. According to the California Education Code and the California Labor Code, students that are 16 or 17 years old may not work more than four hours in a school day (EC 49112; 49116; LC 1391).
"At the place I worked, you are pressured to work a lot more hours than is legal for part-time [minor] employees to work," the bakery guest services employee said. "I usually work between five and six hours [in a school day]."
Time restraints for student employees are important because the more time a minor spends working, the less time they have to dedicate to their studies. 
"I have heard of two students who have been told or pressured by their employers to work additional hours beyond what they're comfortable with to the point where they felt as though the time for their studies was compromised," College and Career Advisor Lisa Vasquez said. 
For many, standing up to bosses can be extremely stressful, causing them to continue to follow a program or procedure that they do not appreciate or approve of. 
"[The students] felt as though they needed to keep the employer happy and to go along with the program, even though it caused them to deal with less time for sleep, or they had to deal with their grades suffering a little bit," Vasquez said. 
One student, separate from the ones discussed by Vasquez, recognized her own mental health was declining, and in trying to remedy that by quitting her job, she was coerced into staying longer. 
"I work as a tutor helping kids who are struggling to comprehend certain math concepts," senior Kenzy Mashraki said. "After a while, it got too mentally exhausting, but when I tried to quit, it wasn't an easy process. At first, they tried to guilt-trip me, saying that I was one of their best tutors… I felt pressured to stay."
Working minors are also not allowed to operate power-driven hoists, such as forklifts, scissor lifts, or derrick lifts. Operating these apparatuses puts minors at risk of serious injury, which is why these pieces of equipment are considered hazardous for young workers. 
"We oftentimes store Thule roof boxes and bikes 20 to 30 feet off the ground in order to make more space on the ground," a student working at a local bike shop said. "I often use a scissor lift to access these boxes and bikes… While I did not use a forklift, another underage person was asked to use the forklift when maintenance was being performed on the shop."
While it is possible that certain employers are unaware of the various rules and regulations that come along with employing a minor, many employers are aware and encourage their workers to perform illegal tasks slyly. 
"They are aware that I use these tools; they oftentimes tell me and ask me to use power tools, and whenever I use the lift they say 'don't get caught,'" the local bike shop employee said. 
To educate employers on the ramifications of employing a minor, schools offer work permits that all working students must have signed by their school and returned to their employers to be kept in their files. In the permit, time restraints and rules regarding what minors can and cannot do are laid out.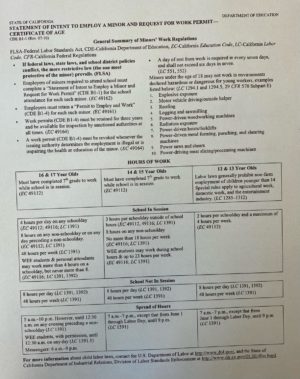 "When I asked if I should get a work permit from school, my boss was like 'no, you don't need one,'" the bakery guest services employee revealed.
On Woodside High School's website, it states that "work permits ensure that you are working safe hours, performing appropriate tasks, and receiving fair pay on the job." Clearly, work permits are not ensuring these protections as many employers of minors do not care about the work permits and the laws laid out in them. Student-workers should still, however, make sure to get work permits for their employers, even if their employers do not require or request them.
At Woodside, the form titled "Statement of Intent to Employ Minors and Request for Work Permit" can be found in the Guidance Office.  
"In terms of safety and also being able to be protected, it is better to work for an employer who is requiring you to get a work permit," Vasquez said. "But, at the same time, I have to understand and appreciate that some students do not have the access to those types of jobs, so their financial needs may sometimes outweigh their desire to stay as safe as they can. But, they should feel free, especially in this job market, to pursue another opportunity… There are so many people who are good candidates for jobs, and many companies need new employees."