Gavin Newsom's COVID Policies Amidst Omicron and How They Affect Woodside
Mia Hua, Politics Editor
January 15, 2022
As students return from Winter Break to in-person learning, Woodside must follow the ever-changing policies provided by California Governor Gavin Newsom and the Sequoia Union High School District.
Last semester, Woodside handled COVID outbreaks relatively well with 42 students and 6 staff members reporting positive cases from August 9 to December 31st, but Omicron presents a much more difficult situation; after a holiday break filled with travel and gatherings, more and more students are either testing positive or worried that they will get COVID if they go back to in-person school. On December 22, 2021, California Governor Gavin Newsom issued a statement of his commitment to continue keeping schools open for in-person learning.
Currently, Woodside's options for what to do about Omicron are limited. According to Newsom's statement, schools are to remain open.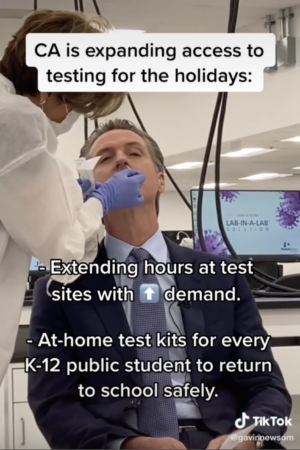 "California schools have been open because of, not despite of, our priority on safety," Newsom said. "As we approach the new year, we reaffirm our shared commitment to one another, to our parents and to our students: to keep each other safe and to keep our classrooms open."
He also posted a TikTok pledging to expand access to testing, which included at-home rapid antigen tests for every K-12 student. Many students are asking to return online, but that's out of Principal Karen van Putten's control.
"Distance learning is no longer an option under California's adoption of AB 130, which eliminates the option schools providing distance learning," van Putten said. "Instead, the only way for schools to deliver remote instruction is through independent study."
Newsom plans to remain in-person as per the Executive Order he signed on January 11th, 2022; due to pressures earlier this year with the Republican Recall, fueled by the extended school closures last year, Newsom has worked to remove the slightest possibility of remote learning.
"Governor's order provides flexibilities for schools to deploy qualified staff to address short-term staffing shortages and support safe, in-person instruction," the press release states.
Moreover, Newsom will continue distributing N-95s and KN-95s to district offices and schools across California and work on providing more no-cost school testing and take-home rapid tests.
In addition to Newsom's work, the district is also working hard to make in-person school as safe as possible for students. Woodside's COVID policies must follow Sequoia Union High School District's lead.
"The San Mateo County Health Officer has the authority to close a school if he determines that to be necessary to protect public health," van Putten said. "Based on prior communications with our partners in County Public Health, we believe it is unlikely that our schools will be ordered to close."
However, more and more students report COVID cases and stay home. According to The Almanac, Sequoia Union High School District reported 641 COVID cases between January 3rd and 7th. At Woodside, there were 162 cases reported, with 10 being staff members. Of the ten staff members, two were classroom teachers, and the rest of the teaching staff has stepped up to sub during their prep periods.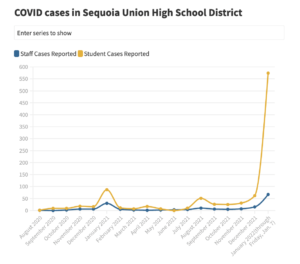 Van Putten works to alleviate pressure from students stuck at home with this email to teachers requesting their grace in supporting students.
"If a student is out for illness or quarantining, update your Canvas page with necessary materials for all students to access and follow Ed Code: provide a reasonable amount of time for students to make up any assignments when it's just not feasible to complete remotely," van Putten writes.
Students missing school can also form support networks with friends.
"Establish a 'Buddy System' between classmates and students who cannot be at school so that the in-class buddy can help get information shared," van Putten writes.
As Woodside's response to the evolving COVID situation continues to change, van Putten works to keep students, parents, and staff up to date.
"All principals receive guidance from the District Leadership team, and we share out all updates as soon as we have County or State Health Department updates," van Putten said. "Students, parents and staff are all included in receiving … the Woodside HS Weekly Wildcat Notes, which is in the format of a Smore Newsletter. I try to include photos and important information from COVID updates to school events and athletics and feature the daily scene at Woodside."
Students can read the most recent newsletter (1/9/2022) here. Woodside plans to continue in-person school and follow any decisions Newsom and the school district decide to make.
"I just want to reiterate that students should not feel pressured to come to school if they have tested positive or if they are experiencing any illness / symptoms," van Putten concludes. "Health and safety come first. I applaud both our teachers and students for their flexibility and understanding as we try to get everyone safely back to campus. Mask up!"