The Pressures and Privileges of Growing Up In Silicon Valley
In a world where college acceptance rates drop lower each year, and Atherton continues to become one of the wealthiest zip codes across the nation, students in the surrounding Silicon Valley area are noticing increasing societal pressures and expectations to be the smartest, most athletic, and most well-rounded, which can lead to detrimental mental health effects.

What makes Silicon Valley so academically competitive in comparison to neighboring regions and states is the fact that it has top public high schools such as Palo Alto High School and Gunn High school, top universities such as Stanford and UC Berkeley, as well as tech giants like Google, Apple, and Facebook. Students are held to high expectations that can cause many to develop serious mental health issues, self-doubt, and sometimes fatal results.
Organizations like SafeSpace have been created due to the insane amounts of pressure students are put under in Silicon valley. SafeSpace advocates and educates the public on the dangers of mental health and how to handle it.
"We are a youth-led Mental Health Organization focusing on advocacy, education, and peer to peer support," managing director of SafeSpace Annie Kim said. "Mental health needs to be talked about and SafeSpace does an excellent job where peers are helping peers navigate that component in their life because all of them are affected by the pressure in different ways."
However, SafeSpace did not appear out of thin air. 
"The history of SafeSpace [is that] it was created five years ago [when] there was a loss; there was a tragedy and we did have a family that lost their daughter to suicide," Kim said. "It really created this need for community even if the community tends to be [one] of privilege. For somebody who may have all the resources, they still resorted to taking their own life."
The mutual understanding of the balance of pressure in comparison to privilege in the Bay Area is a part of SafeSpace's purpose; it is youth-led and serves the community.
One of SafeSpace's newest features that helps bring the community together is the new multimedia platform called SafeSpaceStories. The platform allows students that are a part of SafeSpace to share their personal stories regarding mental health. It serves as a way for teenagers to relate to stories and art created by their peers to bring the community closer together.
"We don't have therapists, we don't have counselors; what we focus on is peer support, education, advocacy, and really letting the kids drive the program," Kim said.  "Meaning the kids are the ones that are saying, "You know what, this is really prevalent in my community where I'm seeing this on my campus."
The students making these observations and advocating for mental health awareness are the same students who go to schools that are extremely competitive in academics, sports, etc.
"I think that not necessarily school itself [here in Silicon Valley] is harder, but there's more pressure to be better and the expectations are higher; it's very competitive here," Woodside Junior Josephine Meade said. "I feel like I'm sort of striving to be the best."
Growing up in an area of prestige and opportunity can open doors and make students competitive in the college market.
"My mom is friends with people at Stanford and I was able to get into a soccer ID camp because she knew those people; I feel like it's all about the connections around here," Meade said. "I feel like if I lived in the middle of Ohio, I probably wouldn't have been able to go to that Stanford ID camp because my family wouldn't have been associated with anybody in that vicinity."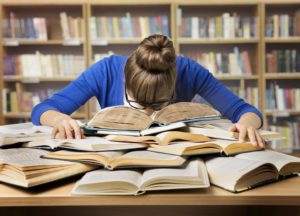 Privilege is one of the positive factors that come with living in Silicon Valley. Being surrounded by big corporations that started in garages and students at 16 creating apps serves as motivation.
"People who live in less "tech-savvy" places really, don't have as many opportunities because they don't have those connections; they don't have that motivation," Meade said. 
Big cities like New York and Chicago have very competitive atmospheres as well. In an interview with Woodside High School Principal Karen Van Putten, she talked about her experience working in different schools across the country.
"I've been here since 2020, and started teaching in midwestern Michigan; I think that the opportunities in Silicon Valley are definitely much more at hand," Van Putten said. "And that's the exciting part of it!"
With more technologically-centered public schools in Silicon Valley like DTECH Highschool and TIDE Academy, mathematics and science-related paths are pushed more by parents. The reasoning for this is occupations involving mathematics and science often lead to higher pay. However, parental influence is not always the case.
"A lot of [pressure] comes from not only parents and their educational background, and what they are hoping for their own kids, but from the teenagers themselves, and what they're exposed to," Van Putten said.
In an area like Silicon Valley, students are constantly being compared (whether by themselves or others) with the best athletes and scholars. For some students, meeting certain expectations can be seemingly unattainable.
"Students will say, "I've got to make sure that my college resume is packed in and show that I am a well-rounded person," Van Putten said. "I think it's too much; we can't ask the kids to do all of that."
Over time, Silicon Valley has become one of the most expensive places to live across the nation. Parental pressure and self-inflicted pursuit of success can be derived from the need to be able to provide for oneself and family in the future.
"This area is one of the most expensive places to live in the entire country; with that comes the pressure to get a really good and stable job," Menlo-Atherton junior Shannon Cooper said. 
Money is a factor in how some students have connections and the ability to get into high-ranking universities as well as take part in prestigious programs. Much like the accumulation of wealth, the reputation of Silicon Valley has grown exponentially over the years.
"My dad told me Stanford wasn't the hardest school to get into when it was first established and it's become over time," Cooper said. "He also went to the same high school as me [Menlo-Atherton Highschool] and he said AP courses didn't exist; they weren't a thing, and now Menlo Atherton offers the most AP classes in the [Sequoia] school district."
The substantial growth is what makes Silicon Valley a worldwide landmark. Symbolizing the land of opportunity, urban technology, and connections to top universities; it takes living in the region firsthand, to truly reveal the heavy pressures. 
"I grew up in Connecticut; went to college in South Carolina; worked in Atlanta, Georgia; went to grad school in San Diego; and moved to the Bay area to finish my training at Children's Hospital Stanford in 1990," Clinical Psychologist in private practice Danielle Galante said. "I have been in schools all over this country and have worked with kids my entire career, which now spans over 3 decades; I think the Bay area is more academically and socially demanding than other areas in the country"
The idea of success is, although subjective to many, not so subjective in the Bay Area, where families push their children to spend their time indulging in extracurricular activities involving engineering, robotics, mathematics, and various sciences as opposed to art-related activities.
"Society overvalued expensive stuff rather than what kind of person you are and whether you find meaningful work," Galante said. "Sometimes parents see their kids as extensions of themselves and attach their own egos to where their children go to college rather than on what might be the path that fits their child best or what their child wants to pursue."
Parental involvement is a consistent issue due to the natural want for one's child to be successful and live a fulfilling life.
Getting into specific colleges is one of the main forms of self and parental-induced pressure, but it is evident that college is a small part of life, and there are thousands of success stories from those who did not meet these unrealistic societal expectations; even in Silicon Valley. 
"College does not define you, I know right now this is what everyone is buzzing about throughout the country, but life happens even after," Kim concluded. "College is not the [final] destination."