Local Hangout Spots for Teens
Stulsaft Park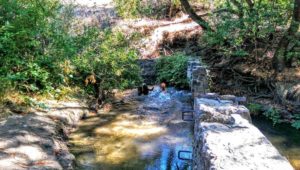 Stulsaft Park is one of Redwood City's largest parks featuring two parks, picnic tables, barbecues, rivers, and hiking trails. There is a rope swing above the river and different paths that cross through the rivers. There are a variety of views including fields, thick woods, calm rivers, and the entire forest is visible from the top. This is the perfect isolated place if you want some peace and quiet or just want to relax with friends. Sofia Larranga, a sophomore at Woodside, has lived near Stulsaft since she was little.
 "[Stulsaft is] nice to go when you want to experience some nature," Larranga said. "There is a really relaxing creek that runs through it, [and] a park filled with kids and nature all around you."
S'Bastians Coffee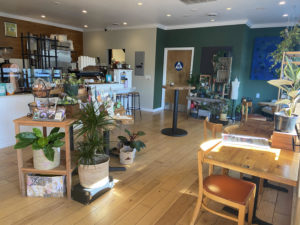 Right on Woodside road, Sebastian's Coffee doesn't seem that special from the outside, but inside you'll find a comfortable and homey cafe. They sell an assortment of coffees, baked goods, sandwiches, as well as different merchandise like bath bombs, candles, plants, jewelry, loose teas, and more. However, they close at 3:00 p.m., so if you're looking to go, after school on Wednesdays would be the best day for that. 
Russian Ridge Preserve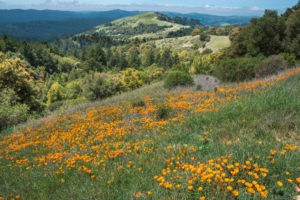 Russian Ridge is a wildlife preserve in San Mateo stretched out to 3,137 acres with many trails weaving throughout the park. In the summer and spring, wildflowers cover the grassy fields and amazing views of the Bay Area are easy to find. If you're looking to take a break from the busy urban life, this is the perfect place. Imagine setting up a picnic with friends in the middle of a flower field overlooking a beautiful view. The park is open from 30 minutes before sunrise to 30 minutes after sunset if you want to see them. 
Handley Rock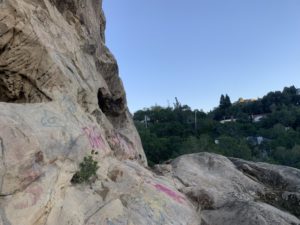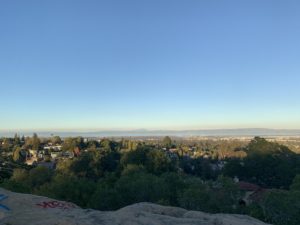 Located in Emerald Hills, Handley Rock, standing at around 50 feet, overlooks Edgewood Park. There are many accessible small caves in the rocks, and climbing to the top gives you a large flat area to sit down and take in the view. You can watch the sunset behind a big forest viewing the front, and facing the back, you can see the sunrise with a view of the city. Tessa Niu, a Woodside sophomore, lives nearby and has gone there multiple times with friends and family.
 "I like that you have to work a little to see the views, and it's not often you'll see other people up there," Niu said. 
Santana Row + Westfield Valley Fair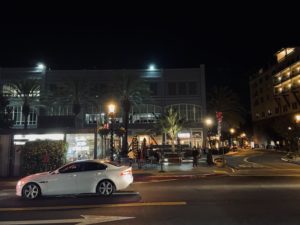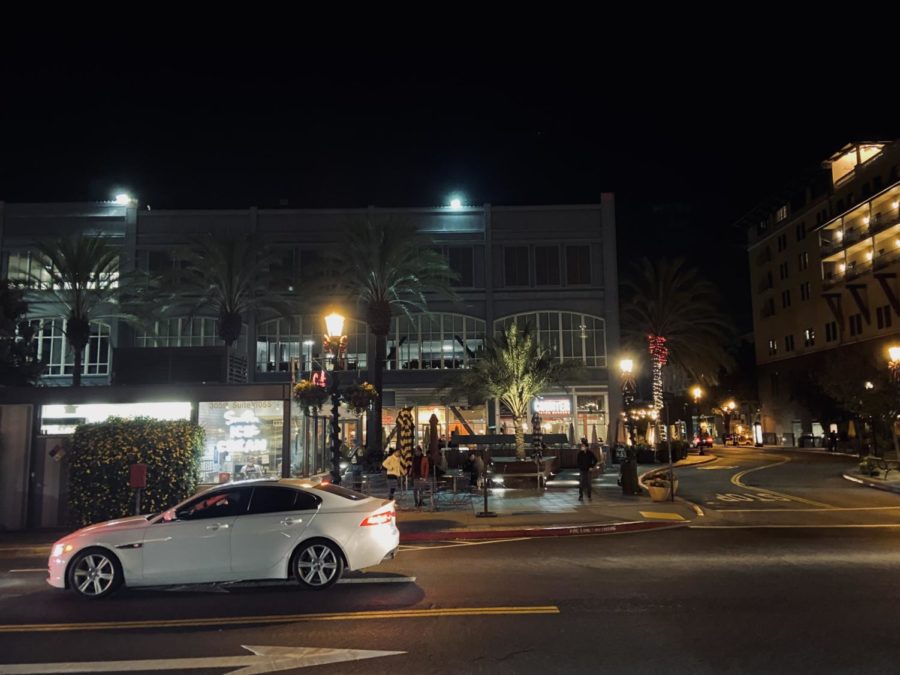 Santana Row is a collection of streets in San Jose with many different stores, restaurants, coffee shops, dessert places, and even a movie theater. Right by Santana Row is the shopping center Westfield Valley Fair which has numerous popular clothing stores like Urban Outfitters, Hot Topic, Pacsun, Lululemon, Zumiez, and many more. There are also many affordable and quick places to eat as well as fancier and more expensive restaurants. 
Garrett Park
Garrett Park is located in Emerald Hills on Glenwood Avenue. If you visit Garrett park you'll find wide grassy areas, trees providing shade, picnic tables, and a barbeque area. There aren't many people there since it's well hidden and secluded. Sierra Pestoni, a junior at Woodside, lives near Garrett park and enjoys stopping by. 
"It's a nice place to go if you really appreciate the beauty of nature," Pestoni said. "I personally like to draw and have picnics with friends at Garrett."
Devils Slide Military Bunker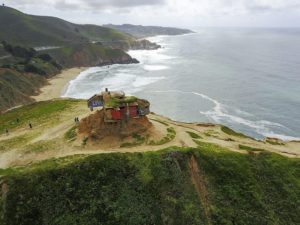 The Devil's Slide Military Bunker is located on the San Mateo County Coast at the top of a cliff. The bunker is no longer in service but it was used during World War II as an observation station. The climb to get into the bunker is pretty challenging, but if it's too much for you, you can enjoy the scenic view of the ocean at the top of the cliff. If you also want to hang out at the beach, the Gray Whale Cove state beach is at the bottom of the cliff nearby. Arielle Bruk, a sophomore at Woodside visited the bunker once. 
"I went for my birthday with my cousin, and we just ate Chinese food at the top of the cliff," Bruk said. "It was pretty cool, but we ended up not going into the bunker, afterward we went to a cute cafe nearby."
Plato's Closet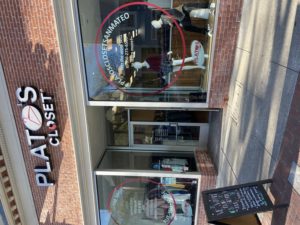 Plato's Closet is a thrift store in downtown San Mateo. Thrifting is great for an inexpensive outing with friends and you never know what you'll find. Plato's has some of the best clothing options in the area since they purposely select clothes targeted towards current teen fashion. After a successful day of thrifting, downtown San Mateo is the perfect place to grab a bite to eat and get some boba. Bridget Reynolds, a sophomore at Woodside, has been to Plato's before with friends. 
"There was a lot of cool stuff I couldn't find anywhere else and they have a cool variety [of clothes]," Reynolds said. 
Red Door Escape Room 
Red Door Escape Room is in Hillsdale shopping mall. They have many different escape rooms with different themes and play styles. This is a fun activity for friends and the bigger the group the cheaper the price. Since it's located in Hillsdale mall you can get something to eat or go shopping after you complete the escape room.