Need a COVID Test? Woodside's Got You Covered!
Testing is available Mondays and Thursdays in the PAC
Sequoia Union High School District and Woodside High School are now offering free Coronavirus testing on campus.
The program, which started last month, operates Mondays and Thursdays from 9:30 am to 5:30 pm in the lobby of the Woodside Performing Arts Center (PAC). Brandon Lao, one of the 5 testers there last Thursday, says it's open to everyone
"We test both students, staff, as well as local community members looking for a nearby site to get tested," he confirmed. 
The tests are administered using the Polymerase Chain Reaction [PCR] method, which experts have considered the "gold standard" of COVID-19 tests because of their accuracy.
"PCR is basically like a super replication," Lao explained. "You take a small amount of the virus… [and] use its internal machinery to make a bunch of copies of it so it's more… easily detected by whatever machine you're running it through."
Anyone looking to get tested must complete a consent and insurance form before showing up at the PAC for testing but may complete appointment registration either on or off-site. 
"There's an appointment booking system," Lao said. "You can either do it at home – that could be an email with instructions, sent by either your principal or whoever's in charge in the school district – or if you come in to our site, we can help you book your appointment there."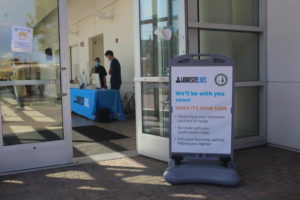 The testing is run by Worksite Labs, a San Francisco-based company formed at the start of the pandemic to specifically run mobile COVID testing units. According to Lao, tests are sent to a facility at the San Francisco International Airport where they are screened and results are returned within 24 hours. Lao added that getting tested is beneficial for both yourself and those around you. 
"Sometimes it's better to know if you're infected so you can take extra caution to take at home and protect your loved ones. At the same time if you get a negative test result, it gives you peace of mind for at least a week maybe," he concluded.
More information on registration and results can be found on the SUHSD Covid-19 testing program document here