Woodside's Octagon Club is Back in Session
Woodside's Octagon Club is back in person for any students seeking to join a new club.
Meera Putz is the co-president of the Octagon Club. She originally joined because she's very passionate and enthusiastic about helping her community.
"I'm really interested in volunteering and doing community service," Putz said. "We really like to help others, and it's a very supportive community."
The club welcomes all types of students who are interested in volunteering.
"The Octagon community is extremely inclusive, welcoming, kind, and friendly," Putz said. "All the officers are there to support everyone."
The Octagon Club assists students in finding volunteer opportunities.
"Octagon Club is a community service club. We help students get involved in local community service activities," Putz said. "We get contacted by organizations that offer volunteer opportunities, and they reach out to us and ask us if we'll be able to provide volunteers for their event."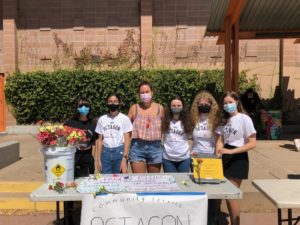 Another student who is a part of this club is Kathleen Scott, who is a co-president of the club.
"We talk about different upcoming community service events in the area," Scott said. "We kind of give you everything you need to successfully volunteer there."
Octagon Club does the research for students to easily volunteer.
"There's a lot of information provided," Scott said. "Such as time, place, also sign-ups, and contact information to the people."
In Octagon Club, there are two teachers who oversee the club. One of them is Kayla Dice, a social studies teacher at Woodside. She is one of the two teachers who run this club.
"We meet to discuss potential opportunities to volunteer either in the community or at Woodside," Dice said. "We meet every Monday at lunch in room E-10 but, because we have such a big awesome group of club members, we are meeting in the lawn area between the E and the F building."
This club is one of the biggest clubs at Woodside. Octagon club has about 40-50 members and they meet outside because they want students to follow the COVID safety guidelines.
"I would recommend [this club] to every single student at Woodside. There really isn't a one-size-fits-all." Dice said. "We have every single type of person in our club, we're so welcoming, and we just want everyone to come and join, to give back to the community."
The other teacher who leads this club is Kathleen Coughlin, who teaches AS English and Psychology at Woodside.
"[Octagon Club] is inspired by an international group called optimists international," Coughlin said. "It's an adult service club all over the world, but our Octagon Club was started here 20 years ago."
There's a lot of history and cool facts surrounding this club because it's been at Woodside for years. Also, this club is suitable because it gives students credit for every 15 hours they complete.
"It's a special kind of club at Woodside because students can earn transcript notation for credits," Coughlin said. "I don't think any other club is like that."
Woodside's Octagon Club is a great club for students interested in helping around, or who want to get involved in their community.
"The Octagon club is a very solid choice for people to build happiness in their own lives because they go out and help other people. This isn't a random act of kindness, this is an intentional act of service and support," Coughlin said.