Should He Stay or Should He Go?
Everything you need to know about Tuesday's Gubernatorial Recall election
On September 14th, California voters will vote to decide whether Governor Gavin Newsom should be recalled from office. 
It is only the second time a question like this has been on the ballot for a governor and the first time since the election of Arnold Schwarzenegger in 2003. Given the off-election year and lack of any high-profile national races, many Californians may have no idea the election is even happening. Luckily for voters, it's fairly easy to participate. 
"It's a very simple ballot," California Democratic Party Intern, Constance Tran, said. "[It's] not as complicated as the usual ballots that we get."
The 2021 Gubernatorial Recall election ballot has two questions: 1) Should Governor Newsom be recalled from office? and 2) If the governor is recalled, who should replace him? While the first question features a basic yes or no answer, the second proposes a list of 46 candidates of various backgrounds and political parties whom voters may choose from. 
As described by the office of the California Secretary of State, voters are allowed to vote "on either one or both parts of the recall ballot" without fear of their ballot not getting counted. If 50% or more Californians vote "NO" on the first question, then Newsom stays in office. However, if the majority vote "YES", Newsom will be removed from office in January, and the candidate with the most votes will be the next governor.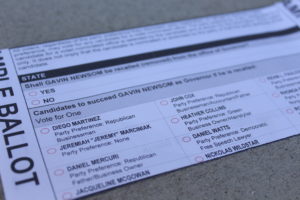 According to the latest polls from the political poll site FiveThirtyEight, Republican talk show host Larry Elder is the top candidate to replace Newsom  – if voters choose to recall him – with 22.6% of the vote, followed by finance Youtuber Kevin Paffrath (Democrat) at 9.6% and Businessman Jon Cox (Republican) at 5.0%. Campaigning has been mostly subdued for those running in the recall election, but some, like Democratic Candidate Joel Ventresca, are still out campaigning, attempting to get their voices heard.
"I campaign every day, answering questions and talking to the media to get my ideas out to the public," Ventresca, a former safety analyst and environmental commissioner for the City of San Francisco, told the Paw Print in an online statement. 
The main argument behind the recall election has been Newsom's capability as Governor of California. According to CA Public Policy Institute, 43% of likely voters in California currently say they disapprove of Newsom's job as Governor, while 53% approve. According to Tran, the Democratic Party is fully backing Newsom amid those encouraging numbers. 
"The California Democratic Party is officially supporting Governor Gavin Newsom – and only Governor Gavin Newsom – for this recall election, because… we believe that he's the only candidate prepared to meet the challenges facing our state," she stated. "Especially with the COVID pandemic and the wildfires happening right now."
Those in favor of recalling Newsom – led by the nonpartisan California Patriot Coalition (CPC) – believe that the former San Francisco mayor hasn't lived up to the job since being elected in 2018. 
"Gavin Newsom exhibited from the time he went in office, he was not going to listen to what the people of California wanted…" CPC co-founder and key proponent of the recall, Mike Netter, told The Paw Print. "We feel…that we simply can't afford to leave Gavin in office for the state to continue on the spiral that it's continuing on."
The main criticism for Newsom comes from what Netter calls his "chain of broken promises" on issues like Homelessness (where Newsom allegedly promised to appoint a Homeless czar once in office, but hasn't done so yet), and his failure to strengthen the CA Department of Emergency Services in preparation for wildfires and the pandemic. 
"'What preparations has Gavin as leader of the state done to prepare us?"  Netter argued. "We literally have a water shortage, we literally have a power shortage. We've literally had our state on fire." 
Ventresca, one of the few Democrats running on the ballot, believes that it is Newsom's handling of the pandemic in particular that needs attention. 
"Newsom's policies on the pandemic are erratic, inconsistent, and damaging," he noted.
Tran, however, argued that Newsom's pandemic response is the best it could be, citing how different the plans of his opponents would be. 
"I think California will be very different if he's replaced, especially because this pandemic is unprecedented and we don't really know how to truly recover from this," she said."I definitely think the way [Newsom] is handling [the office of Governor]  is the best way that any leader could handle can handle it"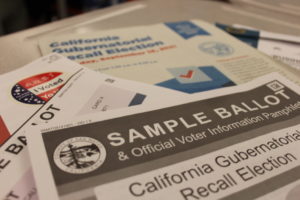 Newsom or not though, the ability of voters to attempt this type of election comes from the 1911 California State Constitution, which states that any state officer in California can be put up for recall if 12% of voters who voted for governor in the last general election sign a recall petition. By receiving the required 1.6  million signatures in April, the CPC did just that, making it only the second governor recall election in California's history. Woodside Government teacher Ramie Macioce believes that these recall elections are incredibly important for the people. 
"I think it's a really good feature to have in our democracy, and especially in this state. You want to have that."
Yet, according to Macioce, many eligible-to-vote Woodside students are likely to skip casting their ballots this election due to lack of time or interest. Tran, a UC Davis senior majoring in political science, said she's seen that trend with her friends. 
"Either they're too lazy or like not interested or they're apathetic towards politics and they just feel like their vote doesn't really matter. But in reality, every vote matters."
Tran argued, however, that despite this lack of interest among teens, it is critical that they do their part and vote 
"It's definitely going to affect their future, especially if they want to stay in California. It could change the atmosphere of things… [and] the way things have been going," she said
Ultimately, with all the controversies and rumors surrounding this recall election and the intentions behind it, Netter maintained that, at its core, the recall election has always been a grassroots effort
"Look, I'm an average citizen," Netter said. " I… [have[ no experience in politics… I'm not running for office. I don't do political consulting. I don't have a job in politics. We did this because we care, and it shows that people who care can get something done."
As for the most important part of it all, In August, every registered California voter received a mail-in ballot in the mail that can be filled out and mailed or dropped off at a local ballot box or polling place by September 14. 
Polling places will also be open for in-person voting from 7:00am-8:00pm on that day, most likely with proper COVID precautions to slow the spread of the deadly virus. A full list of local polling places are on the San Mateo County elections website here. 
For Macioce, there's only one thing left for eligible Woodside students to do. 
"Everybody should get on board and vote." Macioce advised. "I mean, that's your most basic responsibility," 
Literally everything you need to know about the election can be found on the California Secretary of State's website here
Multiple candidates, including Larry Elder, Kevin Paffrath, Kevin Faulconer, Ted Gaines, and Jaquilene MacGowan could not be reached for comment for this article
The Paw Print does not specifically endorse any political party or candidate in this recall election