Back to In Person Learning: How Teachers Have Changed The Way They Teach
Woodside teachers found new ways to teach through the transition from distance learning. 
Woodside teachers incorporated many of the new technologies and programs of distance learning into their in-person teaching.
Distance learning required many teachers to try and work their lesson plans to be online accessible which has carried over into their in-person lesson planning. 
"[Distance learning] forced me to learn how to use several tools … [that I] would not have otherwise started using, certainly not on a regular basis," Kelly Dolan, Woodside social studies teacher explained.
Distance learning forced communication to be strictly through email and zoom, creating a new hurdle for teachers to navigate. 
"I think perhaps my organization is stronger." Ann Akey, Woodside environmental science teacher described. "When we weren't in person, there was a lot more chances that things would be misunderstood. So I think the way I communicate assignments [now] is more detailed."
Swati Tomar, Woodside math teacher, found videos to be a useful new tool for her class.
"I never used to record my lessons," Tomar said. "And so there was the issue when… any student is absent or did not understand…  there's nothing for them to go back and figure it out… this year, I just, you know, make those videos for them, because I know they will be using [the videos]."
This new outlook from distance learning has also changed some teachers' outlook on how to give assignments.
"When everything is online… everybody knows that on both ends, the student and the teacher if the assignment is there or not." Tomar explained. "If they have to prepare for the quiz or test, they can just go back and look at their online submissions so that is very helpful for them."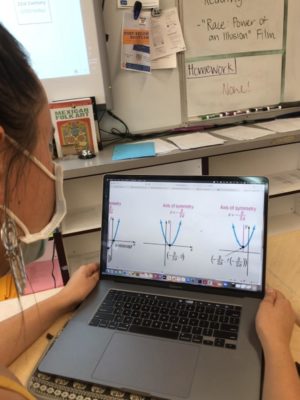 With the transition from distance to in-person learning, students have been required to bring their own personal devices or one provided by the school to all their classes.
"I like how it's given me the opportunity to require that students bring their computers because now every student is supposed to have a computer at school provided or otherwise, which makes some activities easier and or, more accessible," Dolan said. "I'm expecting that universal laptop use will be useful."
With students having access to technology paper assignments aren't as needed.
"I've always wanted to use less paper, but I've always been afraid that students might not have access to computers at home," Akey said. "So that's another thing there, I will still use some paper, but I won't use as much. Because I can count on every student having a device at home."
Distance learning also introduced a new schedule, causing some disorientation returning to the regular scheduling. 
"We have a lot more time now" Raphael Kauffmann, Woodside digital music productions teacher described. "I just had a class, I thought I was giving them almost too much work to accomplish for the day. And they were all done with a half-hour left to go. So we went on to the next assignment, which is basically planned for later this week."
Dolan however found that not all things can transition into in-person learning.
"I was I one thing that I really liked about distance learning that I was hoping to be able to continue this year was actually online office hours," Dolan said. "I found those to be particularly effective in terms of helping students… they ended up being more accessible for a lot of students, because of course, they were accessible from the student's own home… I tried to for the first few weeks of school, but … the schedule didn't work for enough people including me."
For Kauffmann, coming back from distance learning is a reminder of how the connections teachers can make with their students.
Without getting to see students in person, Kauffmann was unable to connect to them properly. 
"I like being in person," Kauffmann exclaimed. "In fact, I love being in person, the energy of being able to interact with students is amazing… what I learned from it [distance learning] is that it's not as easy to create a relationship with a student and try and inspire that lightbulb moment that so many of us became teachers to try and inspire."
Akey discovered distance learning to not only be impactful for teachers but students as well.
"So many of our students proved to be so resilient through it [distance learning]," Akey noted. "I think that was very impressive. I think for many of our students if they were not overly burdened with this, they're strong, probably stronger learners because they know how to work independently… If they were successful in distance learning, I'm sure that they probably developed some good skills."