It's no surprise that online school has required students to adapt in order to learn effectively. However, a sometimes overlooked group considered in these struggles are art students.
With social isolation and changes to often hands-on processes, art classes have been uniquely impacted by distance learning in the past few months. Amanda Chow, a senior at Woodside, has had difficulties with distance learning as an AP art student working with clay.
"We have to go to school and get the supplies that we need to be able to do it at home, and at home we need to have an environment that we're able to work in," Chow said. "I lay out garbage bags over my desk, so then I can work at the table and use clay so my desk won't get dirty."
Another student whose art class has been impacted due to distance learning is Stephanie Alphadel. Alphadel is a senior at Woodside who is currently in AP art. She's one of the many students who has been affected by distance learning. 
"I would say, online learning made our [art] classes kind of difficult," Alphadel explained. "Getting feedback on your work is really delayed, just because you have to wait until you have something like pictures to submit."
There are many students who have similar thoughts. Ava Nielson, a junior at Woodside, is a student in art 2. With distance learning, Nielson's art class no longer has as much of a variety of mediums to explore. 
"Since we're not in the classroom, we have less materials available to us because there's only [some supplies] in our toolkits that we've been given; there hasn't been a lot of things besides like pencils and pens," Nielson said.
Along with these technical aspects, teaching through Zoom has also affected the tone of some previously lighthearted and social classes.
"Some people do have their cameras off, so it's difficult to see what they're doing, and we don't really conversate because we're muted, so it's not like the same environment as we [have] in class," Chow stated.
Creating in these conditions has naturally impacted student's creative processes, with experiences differing across the board. David Reisman, a junior and music production student, has had less luck.
"I have more time, I wouldn't say I have more inspiration," Reisman said. "In terms of creativity, it's really gone downhill, because I'm doing the same thing every day, so it's not really changed up enough for me to write new stuff, new types of stuff."
When asked about inspiration, Nielson shared similar sentiments.
"I would say I would have less because I'm … pretty much sitting in my room most of the time with quarantine, and before I would go out and be able to draw off of the pictures I've taken," Nielson said.
And Julie Marten, an AP art teacher, saw a similar lack of motivation in many of her students during class.
"We have less time in class, [and] the instruction is more challenging and takes more time," Marten explained. "So there's less time to work, and if … you don't have the inspiration of other people working around you, and seeing what they're doing and building your confidence and having them react to your stuff — when you don't have that then … for many people, especially for new artists, they can have a hard time getting motivated, and so the remote learning situation is definitely not good for most people."
However, while some have found these conditions in class unhelpful, others have had better experiences in quarantine.
"I would say, if anything, I've been more inspired during quarantine, just because I've had so much time alone with myself," Alphadel said. "And I'm really able to explore myself as a person and do a lot of introspection, which really helps my work and my creative process." 
Being stuck in quarantine allowed many people to create art, including some pieces that students have been very proud of.
"There are some works that I've done recently that I am really proud of," Alphadel shared. "There's a couple that I'm working on at the moment that I think are the ones that I've enjoyed doing the most, and I'm the most satisfied with. They're not done yet … [but] I definitely, like really see them becoming like pieces that I would be proud of for a long time."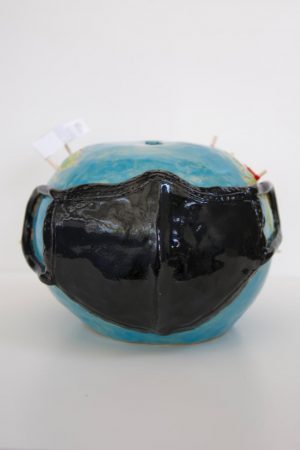 Quarantine has inspired students through more than just time — some have created art focusing on current events, including (but not limited to) the pandemic.
"I made a globe with a mask on it, so that basically symbolizes COVID-19, and like what happened in 2020," Chow said. "The other project was a hand, it was a social justice hand, so it basically symbolizes social justice and the Black Lives Matter movement, the Me Too movement, all the movements combined into one. And then my last project was about trash pollution, and I made a dead whale. … I was like 'oh, world pollution, trash pollution, and like all these different things that are happening in our society, why don't I just make art out of it?' It's meaningful."
These topics were also seen in some art created by Marten's AP art students.
"There's a lot of reflection on the pandemic, on the all the struggles over the killings of minorities by police and struggles around that in society," Marten said. "So whether it's the pandemic or the social movement around Black Lives Matter, both of those are expressed for sure in people's artwork."
However, despite providing inspiration, the pandemic can also be a difficult theme to work into art in a unique way.
"I find it's hard to strike a balance between being too literal and on-the-nose about what you're writing about, and writing good music," Reisman explained. "I've written about COVID a couple of times, but again, it always ends up being a little on the nose, and sort of prototypical edgy teen stuff."
Social justice has also been a recurring theme for some students' art, as protesting against political and social issues was a major theme in the past year.
"I think this year, and with how much our culture's just been changing, I think it's caused my art to become, like, more political, [and] more focused on social issues, too," Alphadel shared. "With the social issues that are occurring at the moment, [I think they have] really given me the opportunity to dive deeper into … expressing creatively like the racism that I've endured. And I think conversations that came up because of what was happening this year really brought that up. I think it really instilled a sense of both awareness and, like, vigilance, I would say, and I think that definitely has impacted my art and, like, this want to constantly be discussing these topics and then also creating a stance on that and beyond just conversation."
Along with finding inspiration in recent events, some students find inspiration in other art and media. Though online classes make it harder to work with other students, social media helps artists share work publicly.
"I found myself looking at a lot of art that other people made, and I was just fascinated by it, and I want to recreate it," Chow said. "I see a lot of people make these huge pots off the wheel, and I'm like 'dang, I want to be able to do that, that's so cool.' … And [on] social media, you're able to post your stuff, and you get to see what other people do, it's awesome."
Along with looking at other artists' work, some reflected on the art from the past and found parallels to art today.
"Listening to music by people throughout the generations who have experienced hardship, and struggle, and happiness, and pretty much the whole range of human emotions, gives us perspective on what's going on now," Reisman said. "Eventually this will all be over, and there'll be a whole thumbprint of what's happened in music and art. And I think it can really help us through these hard times, especially now, which is a period of what seems like exclusively hard times."
Despite the different struggles we face today, and despite the experiences faced by these students, the work left behind by these generations will similarly reflect the values of our time and remind us of the history we lived through. For KQED and The Paw Print, we're Keira Lee and Xamara Carillo. Thank you for listening.
Music Credits:
George Street Shuffle by Kevin MacLeod http://incompetech.com 
Creative Commons — Attribution 4.0 International — CC BY 4.0
Free Download / Stream: https://bit.ly/george-street-shuffle 
Music promoted by Audio Library https://youtu.be/f2XLCNaxnzE 
"Cellophane Fears" by David Reisman
Luminance by Scott Buckley https://soundcloud.com/scottbuckley 
Creative Commons — Attribution 3.0 Unported — CC BY 3.0
Free Download / Stream: http://bit.ly/-luminance 
Music promoted by Audio Library https://youtu.be/yTl_PtnDwEY