How 2021 College Admissions Differed From Previous Years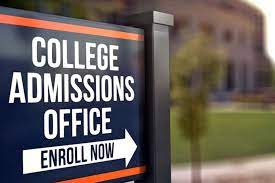 Applying to colleges in 2020 was a different experience than most other years because of the COVID-19 pandemic. This application and admissions period set a precedent of uncertainty for years to follow in terms of acceptance rates, the number of applicants, and the importance of each part of a student's application. 
Before COVID-19, nearly every school in California required students to submit their Scholastic Assessment Test (SAT) or American College Testing (ACT) score. After all testing sites were shut down for an extended period of time, University of California schools decided to go test blind, meaning that they would not even consider standardized tests as part of a student's application. Similarly, the California State University (CSU) system decided to make submitting test scores optional. Woodside High School college counselor Zorina Matavulj explains how the lack of test score requirements affected the 2021 admissions.
"Some [colleges] were more competitive because so many students felt that, without the SAT or ACT being a requirement, so many more doors were more open," Matavulj revealed. "Many students applied to schools they would have never applied to had they had to submit their test scores."
Because they waived the SAT and ACT requirements, CSU schools adjusted their Grade Point Average (GPA) requirements, making their system more selective than ever before. 
In our local [CSU] system, the GPA requirements went up because of the test-optional, and so that was something that students had to adjust to," counselor Francisco Negri explained. "It went from a 2.0, which was the minimum requirement… to a 2.5 because they were not qualifying the SAT or ACT."
Not only did student GPAs suffer as a mere result of transitioning to online learning, but some people's GPAs also took a hit because of the lack of grades from the second semester of the 2019 to 2020 school year. Because many students found it hard to maintain grades during the initial transition from fully in-person classes to entirely online classes, the Sequoia Union High School District, along with many other high school districts, decided to make that semester's grades pass or fail. This meant that students would not receive letter grades for that semester, which impacted the cumulative GPA of many students. Woodside High School junior Mia Gosling explains why she was upset about the decision to do pass or fail instead of letter grades. 
"I was very frustrated about going to pass or fail because my cumulative [GPA] would have been so much higher," Gosling explained. "I also put in so much work to get good grades, and they no longer mattered. I know that GPAs are a high priority on college applications, and I hope that the semester we did pass or fail grades will not affect my application too much."
Without colleges taking standardized test scores into account, other parts of students' applications were scrutinized more heavily during the 2021 admissions process. Not only did admissions officers focus more on the GPA and course load of a student, but they also relied heavily on students' extracurricular activities to make their admissions decisions.
"Many of our competitive schools are looking at the whole application," Negri maintained. "They are looking at if you are challenging yourself, what kind of course rigor are you taking, and they are looking at performance. They want you to maintain or increase performance, as well as maintain or increase rigor… I think the other thing [they look at] is what more the student is doing outside of the classroom that is going to enhance their ability to come into the college and make an impact." 
Since most colleges expect students to be active participants in something outside of the classroom, many students find it necessary to complete volunteer work. However, Negri says, "If there is no purpose to the volunteering, then it just falls by the wayside," suggesting that students should only focus on extracurricular activities that relate to their passions or make a significant contribution to their community. 
With the COVID-19 pandemic, many high school students lost out on opportunities to volunteer and participate in other meaningful extracurricular activities. Thus, many students, including Gosling, are worried that they will not have enough extracurricular activities to put on their college applications. 
"Before the pandemic, I was prepared to do some volunteer work that I was very excited about, but it was canceled because of the closures," revealed Gosling. "Without those volunteer hours on my resume, I feel like colleges will think I did not do enough outside of the classroom."
California students are finding it more difficult to get accepted to University of California schools. Many believe that this is because California schools have been accepting more and more out-of-state students. Matavulj explains why this is so. 
"Colleges are a business, so to have out-of-state students go to California schools is financially positive for the UCs, the CSUs, and the private schools in California," Matavulj said.  
To address this difficulty for in-state students to get into California schools, California state legislators are considering passing a bill that limits the number of out-of-state applicants UC schools can admit. In theory, this would make it much easier for California students to get accepted into California schools because they would not have to compete with as many out-of-state applicants. However, Negri reveals how there might be potential drawbacks to this proposed bill. 
"If they agree to continue to accept the same number of students, then I think it could be extremely beneficial," Negri commented. "If they have to adjust the numbers of acceptances because they are taking less out of state, then that would concern me because it is shrinking the admissions." 
This year's unprecedented changes to applications and admissions have caused many students to feel uncertain and wary of what to expect for the coming application period. Knowing that many students are worried about missing formerly vital parts of their application, such as SAT and ACT scores, Negri offers some advice to students who will be applying in the fall of 2021. 
"Start early," Negri encourages. "Be very purposeful in what you do. Do not apply to all the popular schools. Apply to schools that are meaningful to you because they offer the things that you are interested in. Take time in writing your essays… make it personal. I almost want you to feel awkward when somebody else reads it because they are looking inside you. Continue to challenge yourself. Do not get hung up on grades, but do the best you can."