Students' Thoughts on Returning to Campus
Woodside High School returns to class for the first time in one year, but how do the student feel?
With the beginning of this year's on-campus instruction starting April 5, Woodside students have conflicting opinions on whether those who opted in should have chosen to return.
Woodside's return to campus will begin at 25 percent capacity, with students divided into four groups that will each have the opportunity to return for two days per week. After two weeks and after San Mateo County moves into the Orange tier, groups will be merged to allow for 50 percent capacity. This return to campus comes over a year since in-person classes ended on March 13, 2020.
"I think it's really hard to concentrate looking through a screen at other people, especially when you've got so many problems, like interaction and… internet problems," Conrad Berke, a freshman returning to campus, said. "I'm looking forward… to actually seeing my classmates, who most of them I've never seen before, and I'm looking forward to meeting my teachers in person."
Though many are excited about the social aspect of returning to school, some are concerned about its potential spread of coronavirus. According to the CDC, children are less likely to contract coronavirus than adults, and those who do contract it are less likely to exhibit extreme symptoms. However, asymptomatic cases are no less likely to spread COVID-19 to others. After first hearing campus would be reopening, some students disapproved of the decision. 
"I was a little bit frustrated because there's a lot of families that have parents who are older, and I didn't want anybody to be affected with their health due to the virus," Woodside high school freshman Klara Hachigian-Kreutzer explained.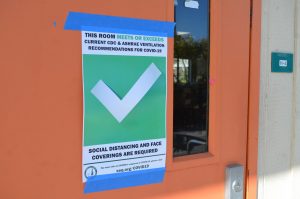 To prevent anyone from catching or spreading the novel coronavirus (COVID-19), all students returning to campus are required to wear masks, social distance, sanitize their hands regularly, and fill out a daily health screening. Staff vaccinations began on February 24, and 16 out of 25 requirements on the SUHSD Reopening Readiness Dashboard have been completed as of February 1, with the remaining requirements nearing completion.
Along with these guidelines, some Wildcats think that limiting the number of students going back to campus would be an additional precaution worth taking.
"If you have some kind of disability that makes it harder for you to learn over online learning, then I would say it's pretty appropriate to go back," Hachigian-Kreutzer said. "But if you're just going back to meet new people, I'd say there's other options for that."
The social factor seems to be important to many students returning to campus, but some are also glad to return due to their rocky experiences with distance learning.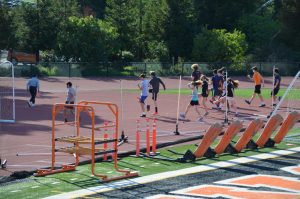 "I just feel I learn a lot better in person than virtually, and virtual learning has definitely been tough for me," Mary Daniher, a sophomore returning to campus, stated. "I feel like I'm not learning as much, or not as much of the material I would be learning if I were in class."
Daniher, a member of Woodside's cross country and track teams, has been grateful for her teams' meets amidst online learning.
"It kind of made me realize how much I miss just interacting with people in person," Daniher said. "I think everybody's glad to be on the team and be practicing together."
Sequoia Union High School District safety protocols apply to sports programs as well — while practicing, all athletes, supervisors, and observers must wear face coverings and social distance. With these protocols in place, for not only athletics but for all in-person learning, those returning have faith in their safety on campus.
"I think it'll be safe as long as everyone has proper hygiene and safety, such as wearing a mask [and] not taking it off when you don't need to, as well as maintaining proper social distancing," Berke said.
Whether they are staying home or returning to school, Wildcats have reached the consensus that; adhering to all precautions and keeping the safety of others in mind is imperative.
"Make sure that you're not affecting anybody else when you go back, so if you do go back, make sure you're not just going out and partying," Hachigian-Kreutzer said. "Try to stay home and [stay] safe."