Admin: Woodside Taking Health and Safety First as In-Person Classes Prepare to Return
With 25% of students returning on April 5th, a lot has been done to prepare the 63-year-old school for its first spring-time reopening
Woodside High School is back on campus.
On February 24, 2021, Sequoia Union High School District [SUHSD] released plans for a limited group of students to return for in-person classes starting on April 5. Now, with a little over a week left until that date, Woodside has been working hard to ensure that its campus is up to local health standards. 
It will be the first time since March of last year that students are allowed into classrooms after spending a good part of those last 12 months in a 100% Distance Learning model. Given the large task of reopening during a pandemic — and in order to follow local health guidelines — Administrative Vice Principal Charles Velscow says that the process had to begin with a ton of measuring a long while back.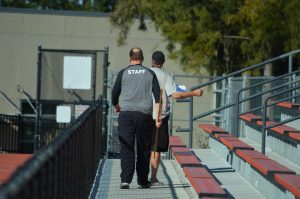 "I originally started off back in the summer and was measuring the classrooms manually," Velscow recounted. "I have this six-foot stick I walked around with to ensure that when the desks are placed in [the classrooms], the students are going to be six feet away."
He adds that, while the hope for returning seemed slim during what he calls "the dark days" of December through January, things have been moving along well ever since in terms of reopening. 
"I think it's going pretty smooth," Velscow said. "Fortunately, we had enough time between when the decision was made that [we] need[ed] to come back… to then getting everything ready. I have a whole bunch of signs that I had all made up for the fall – kind of anticipating [a reopening then] – and then that changed, so we're able to use a lot of those supplies and stuff like that that we had waiting [now].
Now that the date for reopening is finally set, admin overall is noting that they are doing all they can to ensure that Woodside can adequately reopen to keep students safe and learning.
"First of all, [we are preparing] classrooms, and that involves spacing of desks, it involves the sanitation stations, and it involves the air exchange," Woodside principal Diane Burbank explained. "That's getting the physical classrooms ready, and then [there's] getting the teachers ready with a checklist, so they have responsibility for ensuring that they have what they need in their classroom." 
With a respiratory virus that is found to spread primarily through the air, air exchange will be incredibly crucial to slowing the spread and keeping campus visitors healthy, especially when ten or more people indoors will be the new name of the game. Thankfully, Burbank maintains that everything will be covered on the air front, though how that will happen varies from location to location.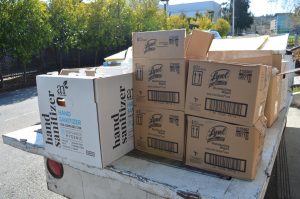 "In some cases, that air exchange is done through the existing [Heating, ventilation, and air conditioning] HVAC with [High-Efficiency Particulate Air] HEPA filters and increased circulation," she assured. "In other… classrooms,  it will be windows open, with air purifiers based on the square footage. All of those… [spaces] are signed with an indication that they meet CDC standards  – and that's not just been 'oh, I think this is good,' – I mean it's [that] the district folks have been in every single room, and conducting air exchange tests to prove it."
As Velschow added, the requirements for airflow are pretty specific.
"Basically, you have to have 30% of the air changing within about a 15-minute time window or 40% within 25 [minutes]."
Once students have left classrooms to head off to brunch or lunch, it is expected that continued mask-wearing and Woodside's breezy outdoor areas will slow possible transmission. There are two places, however, where additional measures are needed to protect students.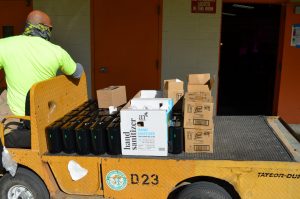 "I really want to keep kids out of the hallway because we want to make sure that… people can walk through safely," Velscow suggested. "We're going to minimize bathroom usage, and we're going to only have two bathrooms, open at brunch and lunch. Most likely the D wing and the F wing, and there will be a staff member there ensuring that there's not more than four students in each bathroom. They're going to be cordoned off."
In order to make school health check-ins easier, Woodside is piloting an app called Frontline Health Portal, which requires students to log in and take a short health survey before they're allowed to continue to their classes. 
"So it basically asks you the questions that you're probably familiar with by now: Have you been around somebody who's had COVID-19? Are you feeling any of these [around 10]  symptoms? Have you been asked to quarantine?"  Velschow explained. "Then, in just one collective response, you can say no, and then you get a little badge that says you're cleared."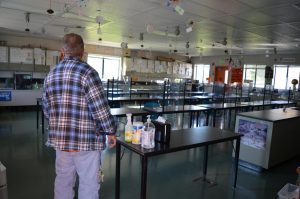 He observed that the app has been successful already in calling out possible virus-harborers. 
"Throughout the whole process – especially early on – when we did catch them, they were like 'oh yeah, I have been around [someone who had COVID],' or families would communicate and say 'hey, we just found out that we were exposed,' and that might lead to the shutdown of an athletic cohort or one of the connectivity cohorts, etc. So, people just being aware and communicating that is really essential," Velschow said.  
As of yet, no Woodside staff member has been publicly announced as having contracted the virus since the release of the reopening plan. Burbank hopes that, if cases continue to stay nonexistent, the spring 2021 reopening session will serve as the launching pad for full reopening in the fall – despite the difficulty that some students might face this time around. 
"Whether students opted in or opted out, I think [coming back] is a stepping stone. For some, that stepping stone may feel like just a toe in the water, and for other people, it will feel like a very deep dive into the deep end. And so, I want to respect…what people are bringing to the reopening, and reassure them that it'll be done safely, and I hope with warm hearts that everybody's trying to do the right thing," Burbank expressed.