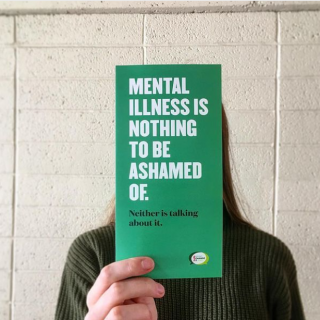 With the COVID-19 lockdown coming up on its first anniversary, teens at Woodside and around the Peninsula are noticing that they are suffering from negative mental health or mental illnesses much more often.
Annie Kim, a managing director for nonprofit organization SafeSpace, is helping destigmatize and spreading awareness about mental health issues. She works with the SafeSpace Youth Action Board (SYAB) and informs people about what they can do to improve mental health.
"You're not alone in this," Kim said. "Don't feel ashamed. Don't feel guilt."
According to the World Health Organization (WHO), about 10-20% of teenagers struggle with mental health, yet many are not diagnosed and do not seek help. Kim notes that the best thing to do if you have a friend who is struggling is to keep your ears open.
"The first thing to do is listen," she said. "Be that supportive peer. Be nonjudgmental."
Kim also explained that to help someone, you must be "validat[ing] what they are feeling, validating their emotions, [and] making sure that they feel heard and seen."
Though there are many signs of struggling, isolation and a lack of motivation are common symptoms of low mental health.
"If their mood is more irritable, or they seem depressed and isolated or disengaged, these are all the different types of functions that impact someone's daily life," stated Kim.
Many people in the Woodside community deal with mental health issues. Woodside junior Gigi Pistilli is one of numerous teens who knows students that struggle with mental health or mental illness.
"Literally almost all of my friends have mental health issues," Pistilli, who is a part of the SYAB, said. "I'm not even sure if I could think of someone who is really good mentally right now."
Pistilli stated that Woodside's counseling services have proved helpful for dealing with these issues.
"Freshman year, I knew that I was having mental health issues, but I didn't really want to disclose that to my parents," Pistilli said. "I went to the CAT counseling… It started by me just going during lunch when I was feeling overwhelmed, but then I got weekly appointments."
As a mental health support specialist at Woodside High School, Elaine Dessus provides resources for students and makes sure programs go smoothly.
"When working with adolescents, I think it's important for me to share with them that they have the tools to find something that they can identify as a coping skill," Dessus said. "Everyone's toolbox might look different, but we have access to a toolbox. It's just finding the things that really will help."
Counseling sessions, now virtual, are still available for students to schedule.
"Connecting a person to resources is the most important thing," Dessus said. "Acknowledging and validating what their feelings are is important because, sometimes, they just need to vent."
According to Dessus, understanding someone's struggles is helpful because it allows them to feel comfortable. There are many factors that contribute to low mental health, such as stress at home, financial instability, social media, and the stress of the pandemic.
"Now, we're seeing a rise in anxiety and depression, and there are several factors contributing to it," Dessus explained.
There are many local resources to combat this increase in mental health issues.
"We have the Sequoia Teen Health center, [and] we have the CAT/ACS Center," Dessus said. " At the school, I could always be reached."
RESOURCES:
San Mateo County Connect: Community Services in San Mateo County
StarVista Crisis Hotline — 24-Hour Telephone & Online Support
(650) 579-0350
(800) 273-8255
Crisis Text Line
Text HOME 41741 for FREE 24/7 support
https://www.crisistextline.org/