From the Frontlines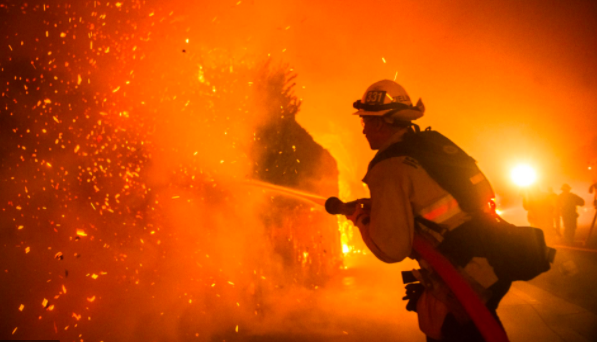 Firefighters across California have been trying to contain the 29 Northern California wildfires that started from mid-August to mid-September 2020.
 Tim Louis is one of the many firefighters working to stop these fires. He works for the Central County Fire Department in Burlingame, Hillsborough, and Millbrae California as a strike team leader of a task force. His job is to support large campaign wildland fires throughout the state of California through a mutual aid system. 
 "What we've done from my department is we have pieces of equipment, our engine companies, out as part of strike teams," Louis said, "which are a group of engines that go to these incidents and pick up work and do what they can to help put the fire out and take over the business that needs to be taken care of."
As a strike team leader of a task force, Louis manages a small group of four engines and smaller wildland fire engines. They take assignments to help contain wildland fires.
"We've done things like direct fire suppression, like trying to put the wildland fire out where it is burning," Louis described. "We've done things like trying to improve a containment line, which is an area where they hope the fire comes to and stops. So we've done work to make fire breaks and improve fire breaks."
While Louis' team works on containing wildland fires, the other task forces are working on evacuation.
"My counterparts have done other work like evacuating people because that's always the first thing we always try to do is get the people out of harm's way," Louis said. "They've also done things like going to communities where there are homes, and … try to protect those homes by doing clearance work around them, putting out the wildland vegetation."
Louis has dealt with wildfires this large in the past, such as the Campfire in Paradise that burned 153,335 acres and killed 85 civilians. He also helped fight the California Thomas fire that burned 281,893 acres and killed 15 people.
"This is the closest to home," Louis said. "This is one of the biggest wildland fires San Mateo County has ever seen."
Louis suggests to those who are worried about evacuation orders to be prepared and stay alert. Several different sources that Louis suggests for constant updates are Everbridge, San Mateo alerts, and social media. Louis also suggests this because when the fire is progressing like this, at a rate where it is not moving, there will be a warning before an evacuation order. 
 "Watch where they're coming and predict that they're coming and follow the orders as they come … have a couple different ideas of how you go about leaving very quickly or leaving with a touch more time to grab maybe a few more things and pack up a little more tidally," Louis said.
Louis discovered after shadowing this line of work that he wanted to be a firefighter because of the way they are there to calm the chaos.
"There's some kind of chaos, and I'm going to get in there, and I'm gonna have some skills and tools," Louis proclaimed. "I'm going to get to work, and it's going to be better after I do my piece of the work."
After years in service, Louis has found that he had made the right career choice. 
"It's really pretty rewarding to have… done something in service of the community, and knowing that you've done your best and worked hard to prevent loss of life, loss of property, and stop something that's really damaging a big chunk of the environment," Louis explained.