Parks Sustain Fire Damage
Fires Have Hit California State and County Parks the Hardest
The CZU August Lightning Complex fire ignited after lightning strikes touched down near Loma Mar; since then, the fire has resulted in one death, multiple injuries, and the burning of over 86,000 acres of land, according to the California Department of Forestry and Fire Protection (CALFIRE).
By far, the hardest-hit areas are the San Mateo and Santa Cruz county parks. The fire has already burned much of Big Basin State Park, Butano State Park, West Waddell Creek State Wilderness, Pescadero Creek Park, and the Fall Creek Unit of Henry Cowell Redwoods State Park in Santa Cruz county. 
"It's that balance between heartbreak and the resilience that redwoods have taught us, trying to gear ourselves up for the process of building back," Sam Hodder of Save the Redwoods told KTVU.
Thankfully, many of the older redwood trees survived this calamity. Trees that were up to 2,000 years old stood tall at Big Basin and will continue to stand after this fire. According to Associated Press reporters Martha Mendoza and Mario Sanchez, who braved the smoke and fire to explore the park.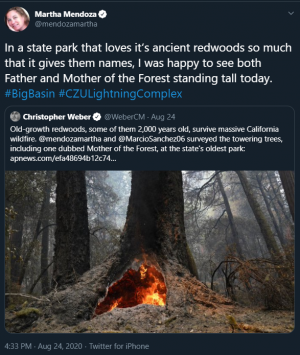 "In a state park that loves its ancient redwoods so much that it gives them names, I was happy to see both Father and Mother of the Forest standing tall today," Mendoza wrote on Twitter.
Many other parks are hoping that the fire won't reach them. These parks include Memorial County Park, Portola State Redwoods, Wilder Ranch State Park, and Castle Rock State Park.
"We are optimistic that the fires won't reach us," an employee at San Mateo County Memorial Park told The Paw Print. "We've taken all the necessary precautions to make sure it doesn't [reach us], but it all depends on the wind.
While the parks have sustained damage, structures can be rebuilt, new trees planted, and modern amenities remade. However, what can't be rebuilt or fixed are the memories lost to flames.
"Big Basin was my last stop before [I went to] Stanford, my last moment of quiet before grad school," local resident Sean Clement said on Twitter. "I cooked and ate by a small fire, slept on the forest floor, hiked the trails, and stood in awe of the giant trees contained in that park. It's gone."
Big Basin, the park sustaining the most damage, will be closed for a year while the park rebuilds, according to the San Francisco Chronicle.
According to a press release by the California Department of Parks and Recreation, the fire's full damage has yet to be fully assessed.
"Due to extensive damage and hazardous conditions, State Parks [department] has not fully assessed the damage to all the structures, including historic ones built in the 1930s, and the treasured old-growth redwood trees inside California's oldest state park," the press release stated.
Recently, California's Governor Gavin Newsom did a walkthrough of Big Basin; afterward, he commented to a reporter.
"If this is not a gut punch, then you're truly not conscious as a human being."