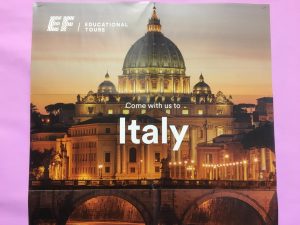 Due to the coronavirus (COVID-19) pandemic, 41 Woodside seniors, parents, and adults will reassess traveling to Italy for their 15-day tour. With about 60 million people under travel restrictions, Italy currently has the largest coronavirus outbreak other than China, where the virus originated.
Woodside's tour of Italy, originally scheduled for June 11 to June 26, included sightseeing of the Vatican, Ancient Rome, Capri, Pompeii, Mt. Vesuvius, Valletta, Syracuse, Taormina, Mt. Etna, Palermo, and Savoca and Forza d'Agro. The tour company Education First (EF) manages the private, customized tour; however, in response to the coronavirus pandemic, EF has postponed all tours scheduled to depart in March and April. EF is also bringing home groups that are currently traveling.
"We continue to closely monitor the outbreak of COVID-19, and we remain in constant communication with our offices around the world," read a statement from EF on March 13. "In addition, we are actively following the guidance of the U.S. Department of State, the U.S. Centers for Disease Control and Prevention (CDC), and the World Health Organization (WHO)."
Woodside English teacher Lisa Camera has led the senior Europe tours for 15 years, and though the original travel plan was still in place about a week ago, she explained that travel to southern Italy seems unlikely as of now.
"Everything is completely up in the air," Camera said. "Right now, the plan is still to reassess where we are in April. The chances of it being Italy are probably remote. However, Italy's really aggressive response to this is impressive. So it can be that things turn around there much sooner than anywhere else… I'm just not ruling anything out."
Italy has over 15,000 cases of coronavirus as of March 12, and the Italian government has dedicated nearly $28 billion (€25 billion) to mitigate the virus's consequences. Italy also has strict traveling and gathering restrictions; traveling from one city to another is permitted only for urgent reasons, and large gatherings are not allowed, and only grocery stores and pharmacies are permitted to be open.
"It is kind of sad," shared Rebecca Rodriguez Soto, a Woodside senior who signed up for the Europe tour last semester. "They've been really hyping up this itinerary, and now they're most likely going to have to change it."
See also: Coronavirus Closes Woodside Until April 6
After leading tours for 15 years, Camera has never had something like this happen before.
"It's one of those things that's so frustrating because it's so out of my control," Camera said. "I totally understand people's reactions and worries. Never has this happened. Never. It's unprecedented."
Though Australia, New Zealand, Portugal, Greece, Croatia, Slovenia, and Hungary are alternative countries that the tour group is looking at to replace Italy, Camera explained that "a place that seems safe now might be completely different in April."
Senior Astrid Sian signed up for the tour in August last semester, but after seeing how the coronavirus might impact the tour, she decided to not attend.
"The senior trip was something that I was looking forward to ever since signing up, but the rapid spread of the virus has obviously impacted all future decisions," Sian said. "I didn't really feel comfortable going after realizing how bad it was truly getting, so I decided to reconsider my decision to go to Italy."
"
There are all types of ways that money can be reused for travel.
— Lisa Camera
The all-inclusive trip cost approximately $4,300 per person, and in the case that any student decides not to attend the trip or the trip is canceled, EF offers Future Travel Vouchers. In response to the coronavirus pandemic, EF amended their Future Travel Vouchers terms to apply to all travelers who planned to travel in 2020. Additionally, EF's Peace of Mind program allows groups to (1) change their tour date, (2) change their itinerary, (3) change to a different tour, or (4) give each traveler a Future Travel Voucher. 
"I am definitely reassured that, if there's some reason that the tour has to be completely changed, we don't lose all that money," Rodriguez Soto said. "It's not a total loss because we can still use that money to travel on our own. It would be disappointing, but at least we're not throwing money at this tour that's just not going to happen."
Woodside will reevaluate the trip itinerary in April and will continue to work with EF to closely monitor the coronavirus. Though it is uncertain what the trip will look like in the next few months, Camera remains hopeful.
"I really appreciate the families who have been patient and accommodating," Camera said. "We're trying to stay positive and open-minded."