Weekly Update: February 24
What's happening at Woodside this week?
Arts and Entertainment: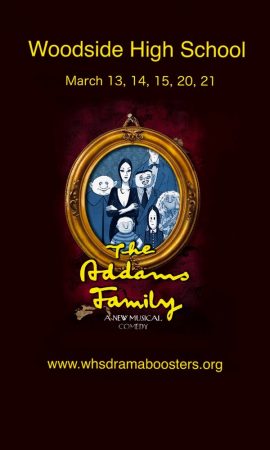 On March 5, Woodside will hold its annual Art Boom showcase. From lunch until the end of the open house, the I-Wing will be filled with work from the Fine Arts, Ceramics, Photography, Digital Arts, and Audio Production classes. All students are invited to stop by and view the art on display.
The Woodside Drama team will be performing the musical comedy "The Addams Family" beginning March 13. Buy tickets at https://www.whsdramaboosters.org/.
Girls Soccer:
Woodside's girls' 2020 soccer season has officially come to an end. The Varsity team fought hard in the first round of CCS but lost 2-1 against Saint Francis in overtime. In other soccer news, three seniors have committed to play soccer at various colleges. Adrienne Evans is committed to the University of Pennsylvania, Natalie Navarro committed to San Francisco State University, and Brynn McClymond committed to Menlo College. Congratulations to these young women for their academic and athletic achievements.
Boys Soccer:
Boys Varsity wrapped up their season just before Mid-winter break with away losses to El Camino and San Mateo on Wednesday, 2/11 and Friday 2/14. The 4-2 and 2-1 score lines have brought the Varsity team to a win-loss-tie record of 7-7-2 for the season, which is reportedly better than last year. Boys Junior Varsity (JV) comfortably beat hosts El Camino 5-0 that same Wednesday, but lost their final game of the season 0-1 away at San Mateo in a Valentine's day duel. Their end of the season record stands at 11-1-1. Senior Andres Simbeck committed to Denison University to play soccer.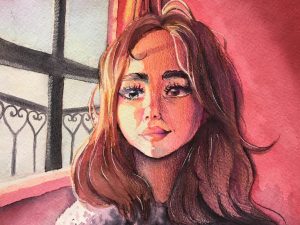 Girls Basketball:
The Varsity Girls Basketball team fought hard at the Central Coast Section Quarterfinals and suffered a loss in the second round to Presentation High School. They finished the season with a 15-11 win-loss record.
Boys Basketball:
Boy's Varsity basketball finished up their season with two losses, dropping them to 15-10 on the season and 5-7 in league play. The team looks to rebound next year with an improvement.
Woodside's Junior Varsity (JV) team, also finished their season with two losses. They finish with a losing record and will look to next season with high hopes.
El equipo Varsity de basquetbol de chicos ha finalizado su temporada con dos derrotas, bajandolos a 15-10 en la temporada y 5-7 en el juego de liga. El equipo busca recuperarse el próximo año.
El equipo de Woodside Varsity (JV), también terminó su temporada con dos derrotas. Terminan con una derrota y esperan la próxima temporada con grandes esperanzas. 
Traducido al español por Fernanda Ramirez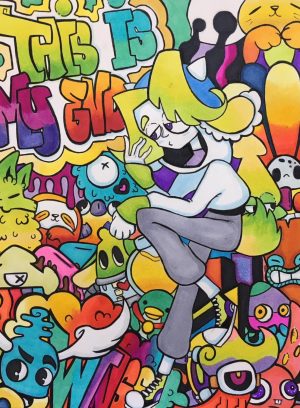 Wrestling:
Varsity girls wrestler Hali Newman placed third at the Peninsula Athletic League finals on February 14. In the boys devision Riely Duncan, Dimitris King, and Jonathan Ureel all placed second and Quentin Verkler placed third. 
Leadership and Class Boards:
The senior superlative nominations were announced Friday, February 28 during 4th period. Nominated students must come to I-2 on March 3rd at the beginning of lunch to take their pictures for the yearbook. Packets for juniors who want to run for the Board of Student Affairs (BOSA) are available now in D-7  and will be due in the upcoming weeks.
Leadership is currently working on the Penny Wars. To participate and help your class earn spirit points, you can put pennies in your class's bin at lunch in front of D-7. You can also put nickels, dimes, and quarters in other classes bins to reduce the points they earn. Currently, sophomores are in the lead for spirit points with 83, and seniors are following close behind at 79.
Music Department:
On February 28, at 7:00 there was the annual Dinner concert for the Woodside Performing Arts groups. The performing groups were Concert Band, Orchestra, and the Jazz groups. This year's concert was themed "TV Time Machine." There were raffle prizes and special silent auction items. The event sold out.
Robotics:
Team 100 has designed and built their robot, and they are currently wiring it and working on the main control system.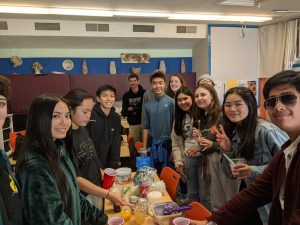 Monday Clubs:
In their last meeting, Filipino club had a Halo Halo party. Halo Halo is a Filipino dessert that in Tagalog means mix mix. The club used Ube ice cream, watered down fruit mix, candy beans, shaved ice, and evaporated milk. They mixed these all up in a cup to make the dessert. The club, over break, practiced for their performance at the April 10th rally. They will perform a traditional dance called Tinikling.
The Octagon club is preparing for Woodside High School's Open House event on March 5th. Along with other clubs they are preparing to sell food in the quad. Grace, one of the club's secretaries, talked to the club about volunteering with Magic Bridge, to be one of their Kindness Ambassadors (to hear more about Magic Bridge and Kindness Ambassadors look for our article about the organization).  There are 2 volunteering opportunities for Octagon members next week, the Roy Cloud Family Dance on March 6 and the Optimist Crab Feed on March 7.
Woodside Dreamers club members participated in a workshop, hosted by Sequoia High School Dream club on February 29. The workshop focused on mental health, rights and education. Everyone was free to participate and develop the programs back in their schools.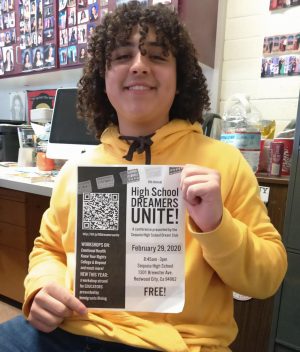 El Dreamers club de Woodside va a participar en un taller que se llevará a cabo en el Dream club de Sequoia High School en Febrero 29, de 8:45 a.m a 3:00 p.m. El taller tiene un enfoque en la salud mental, derechos y educación. Todos pueden participar y desarrollar el programa en sus escuelas.
Traducido al español por Fernanda Ramirez
Tuesday Clubs:
Black Student Union (BSU) watched an episode of the TV show "Blackish" that was about Black History Month and the importance of celebrating African-American leaders year-round.
Bring Change to Mind Club planned for BC2M Activation Week. The group plans to do an activity every week instead of only having one week of activities. They are also planning to do a Vox Pop style video next week, in which they will get short interviews from a variety of people.
Latin Club is wrapping up arena games and is returning to reviewing Latin and looking at more original games.
Thursday Clubs:
The BTA club bake sale was successful and turned a profit. There was no club meeting this week, but next week will have a meeting where more fundraising options will be discussed.