The Senior Thesis, Stress, and College Apps for Woodside Students
Could Woodside be doing more to prepare the students and help alleviate stress?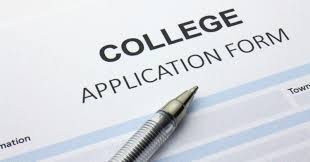 For as long as many teens can remember, college acceptance has been the single most important thing in their life. They have been told that, if they do well in school, they can get into a good college and be successful. However, high schoolers often feel overwhelmed and underprepared for the application process. Could Woodside be doing more to prepare the students and help alleviate stress?
"There's a lot of other priorities it seems that the school has for us when I feel like it should be assisting us in this application process," Woodside senior Daniel Sochoux said. "Maybe rethink the senior research project. Put that to a different time and, instead of giving us a class period or two class periods a month to work on our senior thesis, [we could have] one or two class periods a month to work on college applications in which [teachers] can collaborate with students on questions that we all have."
Many Woodside students feel that the senior thesis adds a significant amount of work to their existing classwork. During the first semester (the same time as college applications), students must submit notecard sets on a semi-regular basis that count toward both their English and history grades. Some believe that pushing the project to the next semester could make students' lives easier, but second semester is a time in which seniors are infamously lazy. However, many still feel that taking some of the workload off during college application season justifies the increased workload second semester.
"It would be helpful if time was allocated for students to work on applications together," Sochoux added.
The amount of writing needed is often surprising to students, and paired with rigorous classwork and the senior thesis, applications can quickly become overwhelming.
"I think it's just the amount of writing you have to do," Woodside senior Jack Landis said.
Others suggest simply telling the students further in advance that they need to be working on college applications.
"Some application prep before senior year would be helpful," Woodside senior David Husari said, "and letting students know before senior year starts that the application process should have already started."
Such a plan might give students more wiggle room, but at the same time, it may increase overall stress about college. Students may still wait until school starts to do the work, regardless of earlier preparation given by the school.
Others believe that they have been adequately prepared and that Woodside does not need to change anything.
"Writing essays in English class prepared me for the essay writing process," Woodside senior Maxwell King said. "I think about [college] daily, but I don't think it's too much."
Many seniors think about college applications everyday and talk about it just as often. 
"I think about college a good amount," said Sochoux. "I don't know if it's fair to say too much because it is a big decision. But I think about it every day; I talk about it a lot with a lot of different people. It's been the highlight of conversation for six months now."
Given how college applications dominate the minds of high school seniors, it seems like it may be helpful to allocate some class time to their completion.
"I did mine toward the end [of the application deadline], and the website crashed five times, so I was very stressed." Woodside senior Anthony Huerta said. "I should probably [have done] the applications earlier."
Giving students class time paired with a push to finish earlier may help mend this problem. Currently, students are responsible for doing a large project on top of their existing workload, which many believe encourages students to wait until the last minute to finish their applications.
Even with changes to the senior thesis, the college application process will almost always be stressful for high schoolers. If schools want to make college applications a less stressful experience, then societal values and pressure on teens to be accepted to top colleges must change. But, until then, teens are going to continue worrying about college.
"It's been stressful for a while," Woodside senior Ronan Morrill said.