$500 Million Later, The Chase Center Finally Opens
San Francisco's Chase Center opened after a highly-anticipated wait.
San Francisco's Chase Center finally opened for events on September 6, 2019, following two and a half years of construction and $500 million in costs.
The Chase Center, which has a seating capacity of 18,064 people, was built as a new stadium for the Warriors after the team moved from Oakland to San Francisco. Sports games, concerts, symphonies, and other events are also held there.
"I went to the Warriors pre-season practice," said Woodside Junior Zahra Roberts. "It was interesting to see all the money they put into it and all the cool [work] that they've been planning."
The Chase Center offers many more activities than the previous Warriors stadium, Oracle Arena.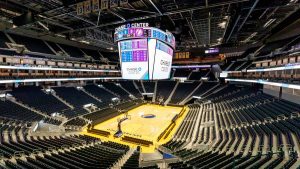 "There's a lot more to do [at the Chase Center]," explained Roberts. "There's a lot more food places and there's even a few stores there, so you can do more than just sports leisure activities."
The Chase Center has a total of 21 restaurants with many different selections. Options include sandwiches, barbecue, hot dogs, Filipino food, tamales, desserts, and more.
"Bakesale Betty… was good; it had restaurant quality, and I'd try it again," said Woodside junior Kate Meade. "I saw good churros [that] I would want to try."
Not only is the Chase Center used for sports games: it's also used for concerts.
"I went to go see Elton John," Woodside freshman Natalia Roden said. "I think the Chase Center is a lot better [than other sports arenas] since there's more room for people to go see a game."
Even though the Chase Center holds fewer people than the Oracle Arena, people it is more spacious.
"It was very bright and really big," said Roden. "There was more space for people to roam around, so that's always nice."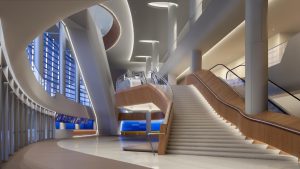 In addition, the unique architecture of the Chase Center seems to be a selling point for many visitors.
"[I saw] a concert by the band The Who," said Woodside junior Dylan Pratt. "The passageways, once you got on the second floor, were convoluted and difficult to navigate through because they all looked relatively similar… But when it was open, the architecture looked really nice and modern."
It seemed that everyone was impressed by the designs and the size of the stadium.
"It was fancy; everywhere it was really nice, and everything looked new," said Meade. "It was very clean, and there weren't a lot of lines. There was a lot of different places to get food, so nowhere got backed up."