'SNL' Returns with New Impressions of the 2020 Political Candidates
Could 'SNL' Impressions Impact the Polls?
"Saturday Night Live" ("SNL") returned to NBC with impressions of the 2020 political candidates, played by host Woody Harrelson, "SNL" cast members, and a few special guests on September 28.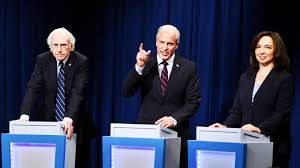 The premiere immediately addressed the upcoming race with a parody of the Democratic town hall. The impressions included candidates Beto O'Rourke, Andrew Yang, Cory Booker, Pete Buttigieg, Marianne Williamson, Elizabeth Warren, Bernie Sanders, Joe Biden, and Kamala Harris. Both the premiere and subsequent episodes have featured recurring guest actor Alec Baldwin as President Donald Trump. 
"I love the political sketches on 'Saturday Night Live,'" said Adrienne Evans, a Woodside senior. "I think they simultaneously inform their audience about what's going on in the news, but they're also extremely entertaining."
Though Evans enjoys the show, she doesn't feel the political sketches are a reliable source for news, and she also doesn't believe the impressions will affect the candidate she votes for in 2020.
"I think [the depictions] are accurate to a certain extent," said Evans. "Obviously, they're based on real-life events, but the interactions between certain people aren't necessarily the most realistic. I don't really look to 'SNL' as a true informant of certain candidates' policies."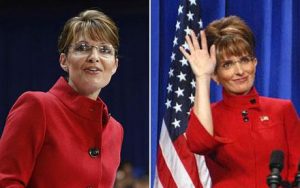 Some studies have shown that there may be a correlation between "SNL" impressions and polling and election outcomes. After Tina Fey's infamous Sarah Palin impression, a 2008 study by FirstView (a national public opinion survey released by Roll Call) found a marginal effect on the election. Out of 1000 voters, "10 percent… said they were influenced by the skits." Of this group of voters, "six percent of respondents indicated the skits made them more likely to vote for Obama/Biden and four percent said the 'SNL' skits made them more likely to vote for McCain/Palin." 
Jesus Cervantes, a history teacher at Woodside High School, doesn't believe that the impressions are likely to change viewers' political beliefs.
"People are going to believe what they want to believe, and they're just going to watch something to fuel themselves," said Cervantes. "I think to get a lot of what ['SNL' is] saying, you need to already be in tune with what's going on, and you would already have to have your own biases. I don't think it really influences many people. If it does, it would only be a small, small number."
Coby Kraus, a Woodside senior, doesn't think "SNL" will impact his vote in 2020 but believes that the show can negatively impact the candidates.
"[The sketches won't] affect who I vote for, but they can certainly harm the candidates," said Kraus.
President Trump has voiced his complaints about Alec Baldwin's "SNL" impression of him, tweeting that the "Alec Baldwin portrayal stinks" and that "SNL" is "boring and unfunny."
Watched Saturday Night Live hit job on me.Time to retire the boring and unfunny show. Alec Baldwin portrayal stinks. Media rigging election!

— Donald J. Trump (@realDonaldTrump) October 16, 2016
A few of the Democratic candidates were less critical in response to the recent impressions. 
In response to Maya Rudolph's impression of her, Senator Kamala Harris tweeted, "That girl being played by @MayaRudolph on @nbcsnl? That girl was me."
That girl being played by @MayaRudolph on @nbcsnl?

That girl was me. pic.twitter.com/btmrzJnm6u

— Kamala Harris (@KamalaHarris) September 29, 2019
Though many people enjoy the political sketches on "SNL," Kraus hopes the current season will be more creative and perform more sketches that aren't related to politics.
"I think [the political sketches] were funny at first, but they seem a little repetitive now," said Kraus. "They've really focused on politics and game shows. But, they need more characters. They need better sketches besides politics."
Others feel that political sketches may be particularly significant due to what they see as a harsh and divided political climate during this time. 
"'SNL' does really good entertaining," said Cervantes. "It [sheds] light on, right now, very serious things, and the very serious political climate we have."