Bair Island Aquatic Center Hosts the California Coastal Cleanup Day
"Think globally. Act locally."
Thirty-eight volunteers picked up 2,000 pounds of debris on Saturday, September 21 for the California Coastal Cleanup Day at Redwood City's Bair Island Aquatic Center (BIAC).
Volunteers from BIAC, a local rowing club, did impressive work in the 35th annual state-wide Coastal Cleanup event, especially considering it was their first time participating. The three most common items picked up were tiny pieces of plastic, glass, or foam (1481), cigarette butts (910), and bottle caps, glass, plastic bottles, and aluminum cans (482).
"The goal was simply to have an opportunity for people who are members of the club to participate in this cleanup," said BIAC Coordinator Susan Rowinski. "The goal is very straightforward: to get as many volunteers as possible to pick up as much debris."
According to Rowinski, there are 650 cleanup sites throughout California that have been in use for 35 years. 
"The most satisfying aspect was that everybody contributed to a positive effort," said Rowinski. "Everybody was happy with their work and participation."
A diverse group participated, starting with school and college students and ending with adults between 60 and 63 years old. The youngest participant was an exchange student (16 years old) from Italy, Francesco Giancasbro, who arrived just before the day of event. Despite the fact that he never participated in volunteering, Giancasbro was passionate to contribute to the community.
"I like nature [and] I prefer [to] help the cleaners to make California a better place, because it will be my home for one year," said Giancasbro.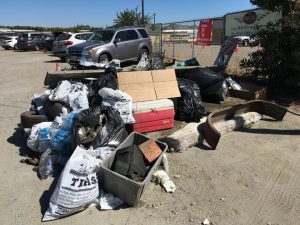 Another member of the rowing club, Sarah Bodary Winter, actively participates in community services. She explained the importance to experience the positive impacts of community volunteering.
"I think the goal was to raise awareness by getting the community involved and raise awareness of the need to keep the waterways clean, so that we can preserve the environment for the wildlife and  for people," shared Bodary.
The California Coastal Cleanup Day is a unique opportunity to bring and make changes in society. Starting with local contributions, people make small steps to the big global changes. Hopefully the California Coastal Cleanup next year, on September 19, 2020, will lead to more significant action towards environmental conservation.
 "I hope the cleanup day will continue in the future for many generations and can be expanded beyond just one time per year," stated Bodary.