Feature: Aryah Seed pursues passion for filmmaking
Woodside junior Aryah Seed surpassed her senior year of high school.
Taila Lee, Co-Editor-in-Chief, Health/Lifestyle/Tech Editor
June 4, 2019
To pursue her passion for filmmaking, junior Aryah Seed will be graduating from Woodside High School with the Class of 2019 in June and attending Columbia College Hollywood in fall 2019 to major in directing.
Before discovering her interest in filmmaking, Seed first found interest in theater.
"When I was about 12 or 13, I did this theater camp," Seed explained to The Paw Print. "I remember reading the script and thinking, 'this is really boring'… [but] I remember watching the director, what she did, and she brought this whole show to life… I remember thinking, 'That's what I want to do. I want to bring… words to life.' That's when I first realized I wanted to be a director."
Seed's passion gradually shifted from theatrical directing to film directing, as she felt that film directing allowed her to get more in touch with her creativity, and she decided to explore filmmaking in high school.
"You can create something from nothing, create emotions that really affect people and get a message across," Seed expressed.
"
You can create something from nothing, create emotions that really affect people and get a message across."
— Aryah Seed
In addition to taking two years of film at Woodside, she took classes every week at the Bay Area Video Coalition in San Francisco freshman year, and she attended weekly classes at San Francisco's Academy of Art University sophomore year.
"About halfway through sophomore year, I had this weird feeling that high school was almost over… just this gut feeling," Seed explained. "The feeling got so strong that I started looking into it—what if I actually was almost done with high school? What if I graduated early?"
After researching online, Seed concluded that she only needed to take her senior history and English classes in order to graduate. Though her counselor was hesitant, Seed eventually set herself on the path to graduate high school a year early.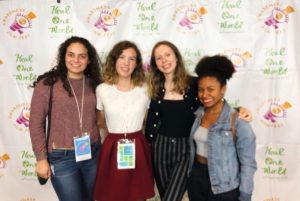 Along with taking senior classes during her junior year, Seed took a semester of English at Canada College last summer in addition to later taking an online course of English first semester. As a junior, she took both junior and senior history at the same time.
In addition to taking classes last summer, Seed traveled to Los Angeles to attend a two-week workshop at the University of California, Los Angeles (UCLA). "Inner Thoughts," one of the two short films Seed wrote the script for, edited, directed, and shot at UCLA, later received the award for Best Direction at the Calabasas Film Festival and the Audience Choice Award at the Awareness Film Festival.
"It was a crazy experience," Seed said. "We rented out a whole theatre, got to go out and have a Q&A with the audience, selling full-on tickets to go see the movies. It was insane… an incredible experience."
Despite being excited to begin her college career, Seed admitted that there are aspects of high school she will miss.
"I'll miss the people I've met here," Seed said. "I've made a lot of really good friends."
Seed will graduate Woodside High School on Friday, June 7.