New Instagram Account @weedsidetea Raises Questions About Cyberbullying
@weedsidetea gains popularity on Instagram, challenging @wwoodsidememes – but they post more than just memes.
Taila Lee, Co-Editor-in-Chief, Health/Lifestyle/Tech Editor
June 3, 2019
Following the ownership change of the popular Instagram account @wwoodsidememes, which features memes about Woodside High School, a new account known as @weedsidetea has surfaced to compete for followers.
Created in May 2019 to post new memes and entertain a Woodside audience, @weedsidetea is currently run by four anonymous owners— a Woodside freshman, sophomore, junior, and senior. The owners stated that they will most likely never reveal their identities.
"We wanted this account to be for the Woodside people [and] a way for them to express openly about how they feel about Woodside and what is going on," an admin from @weedsidetea explained via Direct Message (DM) regarding why they created the account. "We [also] weren't really happy with the new owner of @wwoodsidememes. The four of us were bothered by the way they came into the account."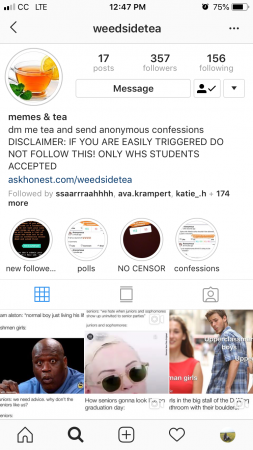 Founded in August 2018, the original owners of @wwoodsidememes—Woodside seniors Kelly Greenberg and Ava Schwettman—recently passed the account to a new owner. The new owner remained anonymous for a while, but after people correctly guessed his identity, the owner revealed himself to be Woodside junior Kevin DeAntoni. DeAntoni passed ownership of @wwoodsidememes to a new, anonymous owner on June 1, 2019.
"[When the new owner] began to hint at who [he was]… he was very aggressive about the whole thing," the @weedsidetea admin said. "We didn't feel that such an aggressively-driven person would be a good person for the account."
@weedsidetea owners also explained that the account's content never felt exactly the same.
"Memes are a way of taking something negative and mak[ing] fun of it to hopefully lighten the matter," the @weedsidetea admin described. "Kevin's positive memes aren't really funny. It's an issue because a very well-respected account has lost its ingenuity and originality, [especially] with the current [@w]woodsidememes admin constantly asking for new material from its viewers, which is very against what the previous admins had done."
Previous @wwoodsidememes owners confirmed that most of their posts were original, but they occasionally posted memes submitted by other Woodside students.
When comparing @weedsidetea to @wwoodsidememes, one student's comment read, "This account is raw af and I'm here for it," while another's read, "Tell me why this meme acc[ount] just hits different than the other one??"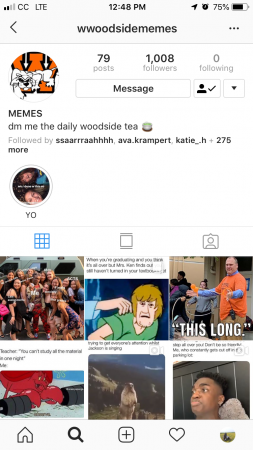 Some students clearly enjoy the competition between @wwoodsidememes and @weedsidetea.
The admin added that "@wwoodsidememes now has lost quite [a lot] of followers… and we've gotten many reviews that our account is better."
Though @wwoodsidememes still boasts over 1,000 followers and @weedsidetea remains under 400 followers (as of June 3, 2019), it's true that some students have unfollowed @wwoodsidememes to show their support for @weedsidetea.
In a poll conducted in the last week of June on the @weedsidetea account, 72 percent of voters said that @weedsidetea's content was "better than [the content from] @wwoodsidememes."
DeAntoni explained that he was "okay with the idea of a competing account" at first, but eventually things got out of hand.
"I had trusted that they would make it strictly memes, but I soon realized how wrong I was," DeAntoni said. "It eventually grew into what it is now, which is an account for gossip and s***talking people. It instigates cyberbullying and to see people and myself get bashed online is honestly saddening."
"
It instigates cyberbullying and to see people and myself get bashed online is honestly saddening."
— Kevin DeAntoni
@weedsidetea isn't just a meme page — it's also a "confessions page" where Woodside students can post anonymous messages about anyone. Using the link in the account's bio, anyone can write an anonymous message, which @weedsidetea screenshots and later posts to their Instagram stories.
"I thought it was supposed to be a meme account," Hazel Griffin, a Woodside junior, said. "But their stories frequently pit classmates against one another in a 'who's better?' type of way and judge their peers… Surrounding the discussion of that account versus the woodside memes account, there is so much undue negativity. It's a shame. I don't think that's what the intent was behind either account, but that's what happened. Where's the 'weedsidecompliments' page?"
Another Woodside student, who wished to remain anonymous, explained that they and their friend had been hurt by confessions posted on @weedsidetea.
"Woodside is a community, and it should be filled with positivity," the student stated. "My friend had been personally attacked, and it brought their self-esteem down. My name was said on the confessions story, and it was super upsetting to know."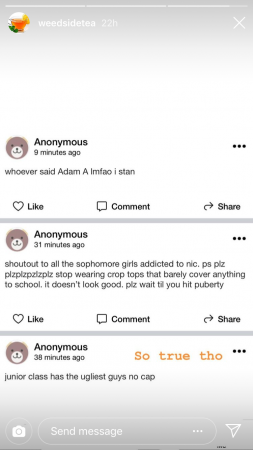 DeAntoni explained that he and some of his friends had also been discussed on @weedsidetea's Instagram stories.
"For people who are saying 'it's not that big of a deal,' you're right," DeAntoni said. "It doesn't become a big deal until you are the one who gets talked about."
Previous @wwoodsidememes owner Ava Schwettman doesn't follow @weedsidetea, but she agrees that the confessions seem to encourage cyberbullying.
"Saying or posting stuff like that is super immature and has ugly and toxic vibes," Schwettman said. "That seems mean to me, and there's really no reason to act that way towards anyone. Being anonymous doesn't give you a free pass to be rude."
"
Being anonymous doesn't give you a free pass to be rude."
— Ava Schwettman
Woodside junior Sean Sheffield feels that @weedsidetea spreads gossip for the sole purpose of entertainment.
"I feel they are wrongfully exposing specific names, people, and grades all for the sake of humor," Sheffield said, "when, really, they could potentially ruin people's personal lives."
Others view @weedsidetea simply as a discussion platform.
"[I don't know] why [people are] trippin[g]; this is just a platform for us to share our thoughts," read an anonymous comment from the confessions page. "People are going to say dumb s*** regardless… it's not even that bad."
The admins of @weedsidetea do not feel they are responsible for sharing confessions. When one student called @weedsidetea "evil" on the confessions story, @weedsidetea responded, "You do realize we're not saying these things?"
Although the admins do not believe that their account promotes cyberbullying, an anonymous Woodside junior feels differently.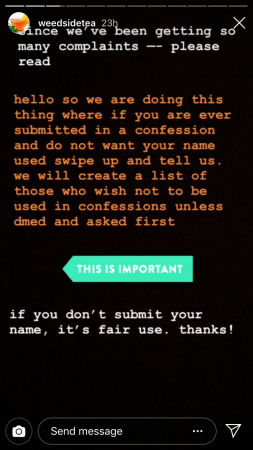 "They act like they're free of fault because they're 'just posting confessions,'" the junior stated, "but they are enabling and encouraging bullying."
In response to complaints, @weedsidetea decided to censor names on their confession stories.
"We understand that there has been cyberbullying going on," the admin admitted. "So we tried to have censorship."
If students do not want their name to be posted on @weedsidetea's confessions stories, they can DM the account to be placed on the censored list— otherwise, anyone's name can be posted. This system was implemented May 30, while the confessions pages were available about a week before.
"No matter what we do cyberbullying will continue," the @weedsidetea admin explained. "[The] majority of the people on the account have asked to keep confessions, even though we gave the people the option to get rid of them entirely."
The admin refers to their Instagram story poll conducted in the last week of May, where 81 percent of voters said they would prefer to keep the account's confessions uncensored.
"We have multiple disclaimers, so that when you follow, you know… what you are getting into," the admin continued. "We urge people to not follow if they are sensitive or easily triggered. It's not about followers to us, so whenever someone is unhappy, we simply ask them to unfollow… Social media should be taken lightly, and it's very easy to block and unfollow."
The account's bio reads, "DISCLAIMER: IF YOU ARE EASILY TRIGGERED DO NOT FOLLOW THIS!" The account also has saved stories with information that new followers are encouraged to read.
Although Kelly Greenberg believes calling people out on the confession stories "is messed up," she agrees that the disclaimers are sufficient.
"If the [confessions] bother you, I think that you just need to unfollow the account because it says in the bio that it's an anonymous confession page," Greenberg said.
The admin explained that even the account's owners receive criticism through the anonymous confessions link.
"We get negative comments… but we take it lightly because, as long as we know who are, it shouldn't matter what people think," the admin stated. "People need to grow thicker skin and realize that there will always be someone who thinks negatively of them. In the real world, people are going to dislike you and have their own opinions… in a couple years, this account [and] high school won't matter."
"
No matter what we do cyberbullying will continue."
— @weedsidetea admin
However, it doesn't seem likely that @weedsidetea will stop posting confessions on their account any time soon.
When one student anonymously commented, "[You're] an awful person/people to make this account," @weedsidetea directly replied: "Just wan[t to] let you know, you can keep sending these in, but we aren't go[ing to] change our minds and stop. All you [are doing is] supplying content, and we ain't some softies like you."
DeAntoni described why he believes people enjoy @weedsidetea's anonymous confessions.
"It's an outlet to say something about someone you really don't like and having the ability to share that with people but without having to say it to someone's face," DeAntoni explained. "That secrecy and anonymity makes people, in my opinion, feel exclusive and to some extent, entitled or better than other people, when the reality is that we're all the same. We're just students in a high school trying to get by."