Spread the Word to End the Word
On March 21, a poster signing raised awareness about the use of the R-word.
On World Down Syndrome Day, Woodside's Forever Friends club hosted a poster signing at the top of the quad to raise awareness about the R-word*, a common word that many see as demeaning towards those with intellectual disabilities.
Forever Friends hopes to better integrate students from the Independent Living Skills program into the Woodside community, and one step they are taking is stopping the use of the R-word.
"I think it's important that people know the R-word is offensive and derogatory towards people with intellectual disabilities, just like how the N-word is a derogatory word," explained Caroline Daniher, president of the Forever Friends club. "We just want to… educate people."
Daniher has personal ties to the cause.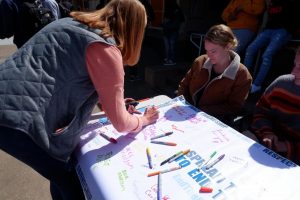 "I have a brother with cerebral palsy, so it's really important to me that people like him have friends," Daniher described.
The club's poster is part of the nationwide campaign Spread the Word to End the Word, which takes place throughout March. The poster will be hung up around campus, and the club hopes to continue spreading awareness.
"We go hang out with the kids in special ed, and it's just a nice way for them… to spend time with friends," Daniher stated. "We're most likely going to be a part of… Best Buddies next year."
Alongside Forever Friends, other Woodside clubs including the Gender and Sexuality Alliance and the Black Student Union are taking part in similar projects to counter derogatory slang.
* A euphemism for "retarded"