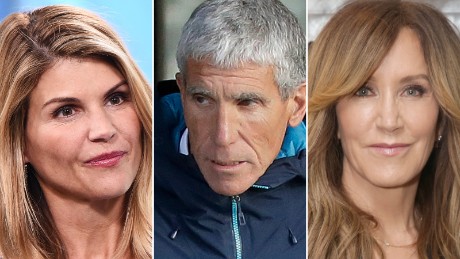 Fifty people were charged in a thread of college bribery scandals unveiled on Tuesday, involving some of television's top-name Hollywood actors.
Many top schools including Yale, University of Southern California (USC), and Stanford have been involved in the bribery, and 750 families benefited from these crimes.
The main figure behind the scheme was William Singer, a Newport Beach businessman who ran the Edge College & Career Network, a front that organized the college entrance scams. He testified in court on Tuesday.
In his testimonial, Singer explained that he would "[arrange] for students to take their SAT or ACT exams at sites in Houston or Los Angeles where he had bribed test administrators," according to The New York Times.
He would also bribe coaches to falsely confirm that the students had been recruited for their sport at that university. Some of his other scandals included the falsification of ethnicities and biographical information to give these students the advantage of affirmative action.
"Obviously, it's not right to get paid to take that test for someone," stated Woodside junior Sydney Fujimoto. The CollegeBoard, who administers the Scholastic Aptitude Test (SAT), agrees.
In the SAT Student Registration Booklet, the "College Board wants its tests and services to be fair and useful to all candidates, regardless of their culture or background," and if students "observe attempts to copy or share answers, take test materials from the room, use prohibited aids, or otherwise gain an unfair advantage," they are urged to "report [their] observations to the room supervisor and contact the Office of Testing Integrity as soon as possible after you finish testing."
"
[Singer arranged] for students to take their SAT or ACT exams at sites in Houston or Los Angeles where he had bribed test administrators.
— The New York Times
Still, this did not stop many of the elite from playing a dirty game with their children's college entrance exams. Ultimately, Singer was charged with one count each of racketeering conspiracy, money laundering conspiracy, conspiracy to defraud the United States, and obstruction of justice, but was released on a $500,000 bail that he secured using California property belonging to his brother.
"Just because you have more money doesn't mean you should have more opportunities," declared junior Deandre Brown.
Evidently, this was not the case for elites including actress Felicity Huffman, businessman William McGlashan Jr., Full House star Lori Loughlin, and her husband, fashion designer Mossimo Giannulli.
Loughlin and Giannulli were charged for paying a $500,000 bribe to USC rowing coaches to recruit both of their daughters. Neither of the girls had rowing experience prior to recruitment. Loughlin appeared in court but was released on a one million dollar bond.
Olivia Jade, Lori Loughin's youngest daughter, is currently enrolled in USC but now faces expulsion and has since returned to Los Angeles. Olivia Jade is also a Youtube influencer. However, after the scandal emerged, she cut ties with many of her brand deals before they cut her off.
"Giannulli also cut brand deals with partners including Amazon, Dolce & Gabbana, Lulus, Marc Jacobs Beauty, Sephora, Smashbox Beauty Cosmetics, Smile Direct Club, Too Faced Cosmetics, Boohoo, and Unilever's TRESemmé," claimed a report in Fox News.
Investigations are still ongoing at several universities, and some have taken disciplinary actions against involved students, coaches, and administrators.
"People who are already socially and economically advantage should not have the need to steal another privilege," freshman Alex Sansa stated. "The opportunity to pursue higher level education does not measure on your net worth but on your ability learn."