On the anniversary of the Marjory Stoneman Douglas High School shooting, students and adults across the nation took time to reflect and honor the 17 lives lost in Parkland.
Over 1,000 Florida high schools held a moment of silence at 10:17 a.m. to remember the 14 students and three staff members who lost their lives in the deadliest high school shooting of the nation's history. Students were released early to avoid being on campus at 2:20 p.m. when the shooting occurred.
The Parkland community is doing as much as possible to keep the memory of the tragedy alive. Memorial ceremonies honoring the victims were held on campus, the Parkland community decorated the school with posters, flowers, and candles, and meals were served to first responders. Governor Ron DeSantis ordered that the flag is flown at half-mast on Valentine's Day to remember the lives lost.
Students at Marjory Stoneman Douglas High School are offered on-campus mental health counseling as well as therapy dog visits. Police protection and district security were also increased on this day.
"Students and parents want to know that the school is safe," Gwen Sidley, head of the Students Offering Support program, reasoned. "If this happened at Woodside, I am confident we would find a plan to make students and teachers feel safe again."
Teens took to social media, tweeting #ParklandStrong to remember the devastation and fear the shooting sparked in hearts of students across the country.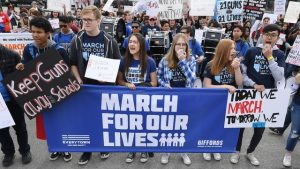 "It's hard because the people most deeply impacted by this shooting, high schoolers, have little power when it comes to making real change," Marianna Siulangapo, a senior at Menlo School, said. "I use social media to keep the anti-gun violence movement alive and show Parkland students my support."
Although ceremonies in remembrance of the shooting were held in Florida, students nationwide want the opportunity to honor the bravery and hardship of Marjory Stoneman Douglas students.
"I was disappointed that we didn't have a moment of silence or even something small on the announcements to honor the Parkland students," Natalie Augustin, a senior at Woodside High School, stated. "I worry we are all just forgetting the horrible effects of gun violence yet again."
During a news conference, DeSantis called in a statewide jury to reflect on public schools' adherence to the legislation passed after the deadly attack. This bill included few gun restrictions and instead focused on implementing armed guards on school campuses.
As well as wanting to keep the memory of the 17 lives lost alive, students are disappointed in the lack of change and want to see federal legislation that will prevent mass gun violence at schools in the future.
"As important as it is to show our respect and honor for those who passed with moments of silence and thoughts and prayers, the greatest thing we can do to give meaning to the death of these people is make change to the country's gun control laws," Berkeley alumni Jeffrey Grant stated. "Given the political climate today, hopefully America's youth is inspired to vote and make real change."