Woodside Juniors Visit Southern California Colleges on a Sponsored Trip
The field trip included tours of six colleges in order to encourage students to explore their options.
Thirty-eight Woodside juniors toured six colleges in Southern California in a three-day, expenses-paid trip over midwinter break.
The trip, funded by the Woodside High School Foundation, was the first of its kind; excepting lunch and souvenirs, all trip-related costs—breakfast, dinner, transportation, and a two-night stay in the Hyatt Place Glendale hotel—were covered. Students boarded a bus at 8:00 a.m. and left Woodside on Thursday, February 21, returning around 7:00 p.m. on Saturday, February 23.
"The Woodside High School Foundation wanted to give students the opportunity to learn about great colleges and make sure they could actually visit them, because it's important to be on the campus and… learn about the different opportunities and programs available," Lisa Vasquez, one of Woodside's College and Career Counselors and a trip chaperone, described. "So, they decided to sponsor trips for juniors… since for some students, [cost] is a factor that hinders their ability to go and see colleges."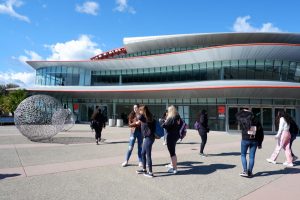 "We identified the juniors as really needing to understand how to select colleges, so we felt this trip was a great opportunity to do that," Francisco Negri, Woodside's head counselor and chaperone, added. "That was the goal, just to get folks thinking about the future and taking the next steps forwards."
The College and Career Counselors selected the six colleges to visit based on their high number of Woodside applicants. These included California State University, Monterey Bay; California State Polytechnic University, San Luis Obispo; California State Polytechnic University, Pomona; Loyola Marymount University; University of California, Los Angeles; and University of Southern California.
"We tried to select colleges that were different and contrasting to each other so you could really see those things," Negri explained.
Even though the three-day tour took up almost half of their midwinter break, most students enjoyed the trip.
"I liked the trip because you can meet new people… and see what university you want to go to," junior Barbara Espindola stated.
"
We hope… you have a better sense of the criteria for what you want in a college, and that you have some good insight into what to expect for life after high school."
— Lisa Vasquez
On the second day of the trip, students had free time after 8:00 p.m. to buy dinner, hang out downtown, or stay in their hotel room. Curfew was at 10:30 p.m.
"I really liked how much freedom we had," junior Amanda Wong added, referring to both the college tours and students' free time.
Anthony Smith was Woodside's bus driver for the three-day trip. Though this was his first college trip with Woodside, he has driven on Southern California college trips before, and he typically drives for at least 15 college trips a year.
"I've been doing this now for 25 years," Smith commented. "Most of [my trips] have been to Southern California… Usually [the students are] juniors, because [they] get a chance to get [themselves] together, decide where [they] want to go, and get [their] GPA up."
Although Woodside junior Michelle Cratty believed the trip was an overall success, she mentioned that time management could have been improved.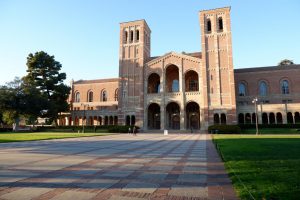 "It was our first trip," Cratty explained. "It's hard to test things when you don't really know how it's going to go… we didn't really have a lot of time, you had to get to each college on time, and if you didn't, then you missed the next one."
On the first day of the field trip, the students arrived at the hotel at 10:30 p.m. instead of the expected 8:45 p.m. due to heavy traffic, which both Vasquez and Negri agreed was the most difficult factor of the trip. Unpredictable traffic also prevented students from touring University of California, Santa Barbara on the final day of the trip.
"Apparently, I have to take more time into account for Los Angeles traffic," Vasquez admitted. "I didn't do enough of that. I [also] hope that we can make sure that we can get more students next time, because even though it was nice to have a small group, it would be great to have more students exposed to the opportunities."
Vasquez hopes that students felt better prepared for exploring colleges in the future.
"Our takeaway, we hope, is that you have a better sense of the criteria for what you want in a college, and that you have some good insight into what to expect for life after high school," Vasquez concluded.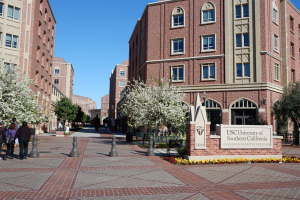 Besides helping students tour colleges, Negri had a second goal in mind.
"I hope that the students felt like they could get to know us a little more, because we want you guys to feel comfortable accessing the college advisors and counselors," Negri expressed.
The counselors are already planning a similar trip to colleges in Northern California, which could potentially include University of California, Davis; California State University, Sacramento; California State University, Chico; California State University, Sonoma; and University of California, Merced.
College and Career Counselor and trip chaperone Zorina Matavulj hopes that, at some point in the future, Woodside could obtain funding for an out-of-state college trip.
"We could go out of state if we had more money," Matavulj explained. "We're just so lucky to be able to have this trip."