Woodside Gives Back During the Holiday Season
Many members of the Woodside community are volunteering to spread cheer during the holiday season.
Woodside students and faculty are giving back to the community this holiday season, spreading joy by volunteering and donating to the less fortunate.
As Woodside High School wraps up their annual food drive, many members of the Woodside community begin to give back through volunteering. One prominent holiday volunteer organization is "Toys for Tots," which was created in 1947.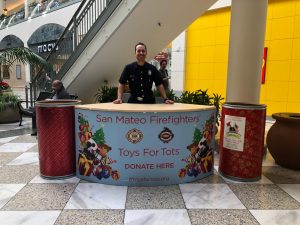 "I think the holiday season is a time that people think of giving," Betty Seidel, manager of San Mateo's "Toys for Tots," said. "I spend my holidays volunteering because I think… the holiday season is a time to make sure everyone is feeling joyous."
Woodside students and faculty members are volunteering at organizations, such as local soup kitchens and homeless shelters, while some donate to Goodwill and the Second Harvest Food Bank.
"During the holiday season, I think some people are just focused on themselves, and they don't stop and think about other people that maybe don't get the same things they do," Katie Delfs, a freshman at Woodside High School, commented. "The holiday season is also just a busier time of life, and it's supposed to be a time for loving other people, but sometimes people forget that."
For nearly 10 years, Woodside students Elise and Adrienne Evans have volunteered for the organization "Build Benefitting Life Moves," where they donate food baskets to the local homeless shelters in the Bay Area.
"I have been doing the same meal basket making program for the homeless shelter for more than half of my life," Elise Evans, a Woodside freshman at Woodside, stated. "I love volunteering because it makes me happy to know that I am hopefully making someone else happy."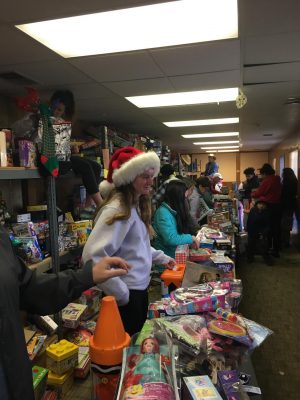 "Build Benefitting Life Moves" is an organization that strives to help provide "interim housing and supportive services for homeless families and individuals." On average, they have 10,000 clients a year, and around 50 percent the company's beds are occupied by children.
"I think it is important to volunteer because, during the holiday season, it is easy to get caught up in buying expensive gifts, and people lose sight of what the holiday season is really about," Evans says. "I really want to help people have a nice and happy holiday season this year."
Meanwhile, aside from being San Mateo's "Toys for Tots" manager, Seidel also volunteers at a booth that gives out free clothes and donates food to local homeless shelters. She is a grandmother of a senior and freshman at Woodside.
"Whatever you celebrate whether it's Hanukkah, Christmas or Kwanzaa, this is a special time of year," Seidel expressed.