Homecoming Rally a Success
Students and staff enjoyed watching the skits in Woodside's 2018 Homecoming Rally.
Woodside High School's annual homecoming rally took place on October 16th, 2018, and students enjoyed both participating and watching.
Every year, Woodside puts on a homecoming rally meant to hype everyone up for the football game later that night and the homecoming dance the following Saturday. The most significant event of the homecoming rally are the skits; volunteers from each grade perform a student-choreographed, themed dance in front of the entire school.  
"I think students are more into it [than they used to be]," Hanna Hyland, a sophomore leadership member, said. "[The skits] were a lot more planned out and more detailed."
"
I really loved watching and being in homecoming skits because it really brings out the fun in people."
— Hannah Hyland
The theme for this year's dance was movies. Some of the requirements for the skits were that they had to include a mashup of multiple songs and that the performers had to display school spirit (such as masks, clothes related to their dance, or face paint). Freshmen performed The Wizards of Oz, the sophomores did aliens vs. Star Wars, juniors did superheroes, and last but not least, the seniors did a horror theme involving The Purge, It, and Michael Jackson's "Thriller."
Despite the loud cheers following the skits, some believe that the energy at Woodside's homecoming rallies cannot compare to the spirit of other schools.
According to Sequoia freshman Rachel Alesna, Sequoia High School's rallies are "more fun and entertaining than Woodside's will ever be!"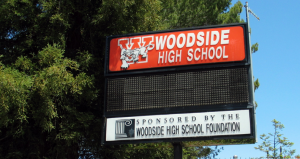 Still, Woodside students are proud of their dances. Natalie Rocklin, who participated in the freshmen skit, stated that she was very nervous before performing in front of the whole school but the skit went well.
"[The freshmen] were very creative with the way they made their dances, and you could easily tell that they put a lot of effort into them," Rocklin explained. "Also, from what I saw everyone who was a part of it wanted to be a part of it because even when every group finished, they were super excited and looked like they were proud of themselves."