Students Show Spirit During Homecoming Week
During homecoming week, Woodside displays a great sense of spirit and community.
Woodside High School's 2018 Homecoming Week had students showing spirit by dressing up and participating in quad counts and lunchtime competitions.
The Board of Student Affairs (BOSA) organizes homecoming week each year, aiming to create a fun a way to start off the new school year. Woodside students took their love of the movies and dressed for success by representing different movie genres with style. The week concluded with each grade repping a different Woodside color.
"I would say every day there was around 70 percent participation," Leslie With, the Activities Director at Woodside, estimated. "On Friday, there was over 80 percent participation."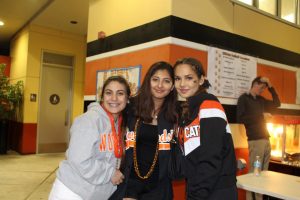 Every day, students and faculty members came to school in costumes showcasing their school spirit, and each grade had a designated quad count day to record how many students dressed up. The juniors started the week of with 38 students participating in spirit week, followed by the sophomores with 63. The freshmen had 118 students participate, but the seniors ended up beating the freshman by an inch with 119.
"Since this was my first homecoming week, I didn't know what to expect," Eloise Sampson, a freshman at Woodside, stated. "I was surprised how many student participated and how much spirit was shown. It was a great week."
The sophomores won almost all of the spirit week competitions, including the ones that took place during the pep rally and the halftime show at the homecoming game.
"I am proud that [the sophomores] won some of the competitions," Jordan Deemer, a sophomore at Woodside, asserted. "I was surprised that we did so well, considering how we did as freshmen."
"
Everybody is getting involved and everybody is showing spirit."
— Leslie With, the Activities Director at Woodside
Aside from the students, one of Woodside's most spirited members is Principal Diane Burbank, who lives her life in the school colors.
"I have always liked the color orange," Burbank explained. "During my first year at Woodside, in 2012, people commented positively on my amount of school spirit because of all of my orange clothing."
Many students went above and beyond during this year's homecoming week, dressing up every day with more style than the last. 
"I think [the students] really like the spirit and many students say that this is their favorite time of the year, because everybody is getting involved and everybody is showing spirit," With reasoned.