New Halloween Laws Frighten Communities
Throughout the country, states are implementing new laws regarding Halloween behavior.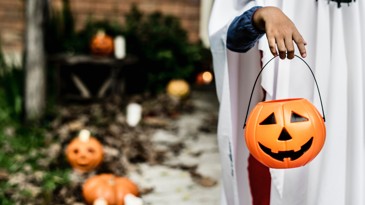 New laws in California restrict Halloween behaviors, resulting in possible fines or jail time for those trick-or-treating over the age of twelve or staying out past eight at night.
Besides California, Virginia, Maryland, South Carolina, Illinois, and cities in Canada, have placed new, highly restrictive laws on common Halloween activities. Such restrictions include: formal trick-or-treating hours (generally between 6:00 pm and 8:00 pm), a cutoff age for trick-or-treating at twelve, "curfews" for teens over the age of fourteen to be off all streets after ten (regardless of their intended activity), possessing a permit when in possession of a Halloween costume mask, and limited trick-or-treating activities to purely October 31. Violations of these laws may result in fines between ten and one-thousand dollars, as well as up to six months in prison.
The Suffolk city code states that "it shall be unlawful for any person over 12 years of age to participate in the 'treating' custom associated with Halloween of going from door-to-door displaying costumes and requesting treats."
"
At any age, [the government] shouldn't be exclusive of any age group's enjoyment of Halloween."
— Leila Preys
Controversy has ignited over Twitter regarding the subject; some remain adamant that the laws promote security for the youth trick-or-treating and prevent other unlawful behavior (such as violence or theft), while others assert that the laws discourage older children from enjoying the holiday and the spirit of Halloween.
"I can understand why the age limit has been placed, because teens tend to be disruptive," stated Emma Klebaner, a Woodside High School sophomore, "but I feel that the fines are excessive, and that the necessity to possess a permit to wear a mask may be a little over the top."
Along with Twitter users, local teens fear that the new laws will prohibit the enjoyment and positive experience of Halloween. However, the community does seem to understand that the laws were implemented on a basis of protecting the very young from too much fright on Halloween.
"At any age, [the government] shouldn't be exclusive of any age group's enjoyment of Halloween," Leila Preys, a Woodside student, reflected.
While some states, such as Illinois, have had similar laws for many years, 2018 has seen a sharp increase in the number of cities and the severity of the laws and consequences regarding Halloween behaviors. While previous laws have not prohibited the enjoyment of Halloween, the new restrictions seem to worry communities. It seems the number of arrests and fines following this year's Halloween night will be the telling factor as to whether or not these new laws will be beneficial.
All in all, for teens looking to enjoy this Halloween night, threats of laws, jail time, and fines may be far scarier than any decorations.