New Teachers, Old School
With 22 new teachers, excitement for what the school year will hold is high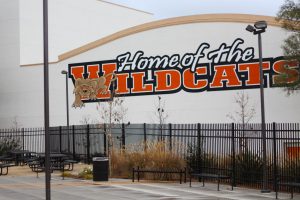 An influx of 22 new Woodside High School teachers, specializing in areas including mathematics, English, history, and counseling, makes the start of the school year an exciting time for both students and faculty.
Woodside's count of new faculty members has nearly tripled from the usual eight. Many suspect the growth is due to the rising popularity of the Silicon Valley and the opportunities it offers.
"Silicon Valley is the new boom towns, [like] back in 1849 where everyone wanted to come out for gold," explained new AP US History, government, and economics teacher Michelle Buckowski. "People want to come or for YouTube jobs, Facebook jobs, Google jobs, and internships, and it turns out that people have teenagers that need to learn things."
Due to this, the number of students at Woodside has grown as well, but the new faculty members are ready to handle the surprising rise.
"It's amazing," Buckowski described. "It's exhausting in the best possible way, but we just get thrown into it in mid August and off we go, go, go… Everyone I met felt so in sync with the way I think and the way school should be, and it's such a nerdy kiss up answer to say 'I'm excited to work with the school leaders,' but I am. I am excited about how much freedom the teachers and students have to build their own community in this school, which is pretty different from where I've been before."
"
A little change is good for the school, especially a school as big as this."
— Aryah Seed
Despite some apprehension, the students themselves are looking forward to having new teachers.
"It's great to have some new faces at Woodside," commented Woodside senior Aryah Seed. "A little change is good for the school, especially a school as big as this. Of course, we don't know very much about them, but that could be a good thing."
Still, the change is bittersweet: it comes with the departure of former staff.
"I am sorry to see some of the old teachers go… but that's just life," reasoned Seed. "Things around us are always changing and we need to just go with it… I'm excited to see what the new faculty members can bring to the school."
The new faculty, while nervous about adhering to the standard of those who came before them, are prepared for the challenge.
"So far, everyone seems very jumpy and happy and willing to go along with whatever happens in the classroom, although I might just be fooling myself because it's August and early, but that willingness to say 'let's go, let's go on an adventure!' is pretty Woodside-unique," Buckowski concluded.