UPDATED: Menlo Atherton High School Forced to Go Into Lockdown After Threatening Post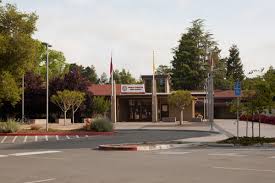 Menlo-Atherton High School (M-A) went into lockdown today when local police authorities contacted the school at about 11:30 am after receiving a warning about an image circulating on Snapchat of an individual holding a handgun and wearing a black baseball cap in what authorities believed to be an M-A bathroom.
While a timeline for the event is still unclear, Erik Burmeister, the Superintendent of the Menlo Park City School District confirmed in an email, obtained by the Woodside Paw Print, that M-A was still on lockdown at 1:50 pm, adding, "We have placed Laurel School Lower Campus on Secure Campus status due to the proximity of M-A High School. There is no immediate danger."
The Paw Print has confirmation from multiple M-A students that the picture was, in fact, not taken in an M-A bathroom, but was instead taken at a different location. The student never brought a weapon on campus.
Tami Raubvogel, a school administrator for the Menlo Park City School District elementary schools, told the Paw Print, "Although the Atherton Police Department has been clear in stating that there is no threat to our students, they have asked that we take this precautionary measure in order to assist them with their investigation."
The lockdown lasted approximately 2 hours and ended at 1:42 pm. It ended without incident.
The Paw Print will continue to update this story as more information emerges.