Badminton 
The badminton team is in a transitional year to improve its roster. The team, unfortunately, lost key players due to graduation, but hope is on the horizon. 
The team hasn't started the way they would like to, but they're dedicated to working hard and improving that record to make it to CCS. Currently, they are out of the running for CCS. 
The team hasn't been deterred from their ultimate goal despite their unfortunate record. The team has been hard at work with their training regimes consisting of hard drills and practices to help the newer players adapt to the game. 
"We practice every day," Amos Figueroa varsity badminton player said. "On Monday we're in the weight room training, Tuesdays we have games, Wednesdays we practice, Thursdays we have games, and Fridays we have practice, so we're definitely ready for CCS."
Even with most of their key players being seniors and leaving due to their graduation, some amazing players are still on the team. 
"Sean Ikehara (Senior), he's a pretty good player for boy's doubles," Figueroa said "Caden Webster (Senior), he's a really good player for boy's doubles, and Christopher Baran (Sophomore), he's a good singles player,"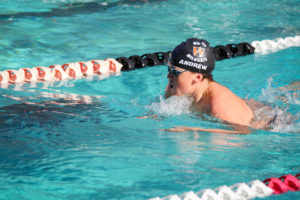 Boys Swim
The boy's swim teams have been killing it and made it to CCS in a breeze, with record times. These are some of the fastest swimmers we've seen in a while at Woodside. 
The boy's varsity team made it in all three relays so they advance to CCS. They think they have the chance to set the fastest time in PALs this week. One of the swimmers in JV boys swim Seth Collet (sophomore) is setting D1 times.
 "Seth Collet — he's crazy man," varsity boys swimmer James Gillbrand said. "He's setting D1 times right now as a sophomore. He carried us to CCS and he's got a future ahead of him"
Gillbrand believes the team has still stayed strong even after losing some of their fastest swimmers last year cause of graduation. The boy's swimmers have stepped up to keep the team afloat and are hoping to make some noise at PALs.
"A lot changes each year, [this year] we lost one of our fastest swimmers," Gillbrand said. "People step up to fill the roles so I think we're about the same, hopefully, we can bring the heat at PALs like we did last year."