6 out of the 7 varsity cross country players gone: what's the damage?
With Woodside sports starting again, the cross country season has grabbed a lot of the attention after the amazing 21-22 season involving PAL (Peninsula Athletic League), CCS (Cross Coast Section), and various state victories.
A huge fraction of last year's 2021-2022 varsity team has graduated, with only 1 of the 7 former runners remaining. Elle Marysla, Nayan Smeuk, Hans Buhr, Ethan Brooks, Kai Steiner, and Virginia Pistilli have all graduated. Only Max Hohendorf remains from the varsity roster last year.
"Of course, [after] losing six out of seven of our runners, it's going to be very tough to make up," varsity runner Dominic Barty said. 
Barty was one of several runners on varsity last year who not only won the PAL championship and the CCS championship but also went on to state. 
"I mean, we're losing the talent that got us to the state meet last year," varsity runner Judah Dulany said. "This year is kind of like a rebuilding year, getting used to varsity and competing at a higher intensity, but also I guess we're trying to win as well and defend our PAL and CCS championships."
While losing a number of seasoned runners can be difficult for one's own team, this is not the case for other rival teams, who benefit from Woodside's loss of players.
"The people and teams – like Sequoia – those people were juniors last year, and this year they're seniors," Barty said. "Typically older students tend to do better. They tend to be faster. We're kind of like the young team, other teams are like the old teams."
Despite the obstacles the team will have to overcome this season, runners continue to have confidence in their abilities and the team itself.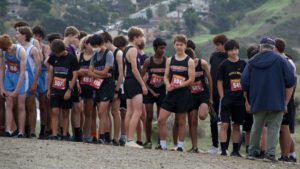 "I wouldn't say competence has dropped," Dulany said. "We're still feeling good."
Although a number of runners graduated last year and left the team, new freshmen have joined and there is potential to be able to fill the gap. 
"We have got like a couple of siblings from varsity members that have left so we got Asher Smeuk and Elle's sister (Pearl Marsyla)," varsity runner Jude Bowen said. "They're all pretty good."
Given the results from last year's season, the bar has been set fairly high for these new players.
"I think [Asher Smuek] is definitely a good team leader," Barty said. "Especially for the underclassmen. And you know, as the brother of one of the former varsity guys, I think [he's] definitely [under] big expectations."
While the loss of varsity players might make the season more challenging, cross-country runners are still confident in each other and themselves.
"It's definitely a big change from JV to varsity because we kicked everyone's [butt] last year," said Bowen.