Dance Team searches for new talent
The dance team performs high-energy, self-choreographed dances at football and basketball games, rallies, and more. If you want to be part of a team that lifts school spirit alongside other dancers, join the current team and other prospective teammates in the dance room (G-18) on March 21-23 for tryouts.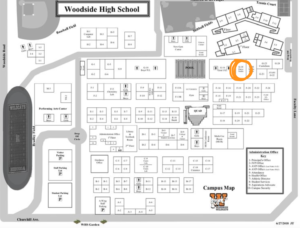 Everyone is welcome and encouraged to try out, as the team is always eager for new dancers and talent. Dance team officer, choreographer, and sophomore Keana Velasco encourages people to join for the community and the fun of performing at games.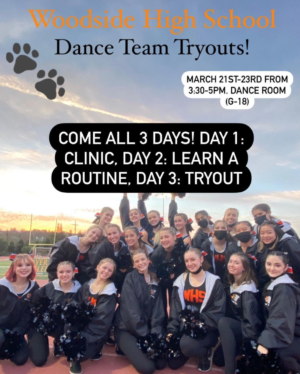 "People should join [the] dance team because … it's really fun … it's a community," Velasco said. "You get to meet people, you get to have people you rely on, and hang out all the time. We also get to perform at games like football and basketball."
Tryouts span over three days: Monday, Tuesday, and Wednesday the week of March 21. Show up at 3:30 in the dance room with athletic clothes that you can move in (and that shows off your dancing) and a pair of tennis shoes. 
"The first day is a clinic, so you can come see what dance team's all about," Velasco said. "The second day we learn the dance for the tryout, and the third day we actually have the tryouts."
Practice is typically early in the afternoon so dancers don't miss classes at their own studios (although many members dance solely at Woodside). The schedule is flexible and changes around school events. Tuesdays, Wednesdays (on game weeks), and Thursdays are the main practices, and Fridays are typically game days.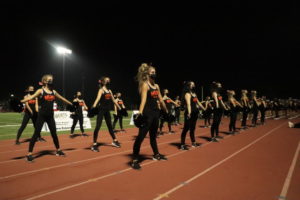 "Normal practice consists of us prepping for [a] performance at a game," Velasco said. "We warm up and then whoever's choreographing for the dance of that week, they'll teach a routine, and later in the week clean it and stage it so [it'll] be ready for performances."
Dances are new every week and the dance team's very own officers/members choreograph, set formations, and lead practices. Join the team to get more involved, while expanding and evolving your dancing.
"Come try out for Dance Team!" Velasco encouraged. "We are always looking for new people to join and have some fresh excitement."
For any questions contact: [email protected], @woodsidedanceteam on Instagram, Coach Nina Nesmith, or anyone on the team.