Woodside Cross Country's Amazing Season
Woodside's cross country team performed very well this season and looks forward to bigger and better achievements such as winning sections and going to state.
Under Coach Humberto Hernandez, the cross country team destroyed the competition.
"We're doing exceptionally well; we just won a meet," boys cross country captain Nayan Smuek said. "It was actually about a month ago now, but we went to meet with 82 other teams. We're the top of our league; we've got a shot at winning sections."
The Peninsula Athletic League meets all the teams around Woodside, including rivals like Menlo Atherton and Sequoia. The Central Coast Section is a level above the Peninsula Athletic League and includes teams from San Mateo County and surrounding areas, including some San Francisco teams. After winning division II sections on Saturday, November 6th, Boys Varsity will now move on to state. Divisions are based on a school's population, but state divisions are not.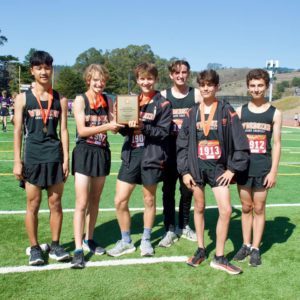 "We won a lot [in] our varsity boys, and JV boys," Woodside sophomore on boys junior varsity team, Mateo Chen said. "Varsity girls haven't won a lot because they've had low numbers, but they've been good as well."
While the boys are doing well, the problem with the varsity and junior varsity women's cross country team is the lack of participants.
"The biggest issue for us is injuries and then low numbers," Chen continued. "We will just continue working hard, [and will] keep getting new people."
Injuries are also a problem on the team, along with limited numbers.
"We also need to take into consideration the injuries we have," Woodside sophomore on junior varsity, Dominic Barty said. "Since we don't have that many people on the team, we have to be really careful of injuries. So we need to make sure we're taking care of ourselves, eating right, training, right; that kind of stuff."
The Cross Country season will inevitably come to an end if they win or lose state.
"We have a bunch of really talented people on the team, and everyone's been working really hard the whole season," Smuek said. "Just as long as we don't get injured, we should be good."