Woodside's Next Edelman? Senior Elise Evans Officially Commits to Stanford University
Nationally recognized Defender and Woodside BOSA President draws crowd during lunchtime ceremony
In a small ceremony outside the MUR during lunch on Wednesday, Woodside senior Elise Evans officially committed to playing soccer at Stanford University.
A crowd of around 100 Woodside students, friends, and faculty watched as Evans signed her letter, gave remarks, and posed afterward for photos.  Her journey began almost three years ago when she verbally committed to play soccer at Stanford on February 28, 2019. Now, Evans has officially solidified her commitment to the university with pen-to-paper. 
"This has always been my dream, to go to Stanford," Evans joyfully told the Paw Print. "So to have it actually in writing now is super incredible, and my dreams are coming true."
"
This has always been my dream, to go to Stanford"
— Elise Evans
As far as Evans' origin story regarding her involvement with soccer goes, the student-athlete has been playing the beloved sport for as long as she can remember. 
"I've been playing soccer since… I was born. My mom played at Stanford… and my dad did as well, so they put me in soccer right away. My sister [also] played soccer and I wanted to be just like her," Evans said. "Ever since that, I've been playing every single day, every chance I can get. It's still the thing I love the most."
Evans, now ranked #1 by IMG Academy in a nationwide list for the top Class of 2022 prospects, not only aspires to be like her sister (Former Woodside BOSA president Adrienne Evans) but also acknowledges the support of her family and friends amidst the decision-making process.
"A lot of my family did go to Stanford but they wanted to try and [disregard] this when I was [in the middle of] decision-making," Evans said. "They really supported me if I [wanted to go to] Cal or any other school around the country, but I think they're all super happy that I chose Stanford."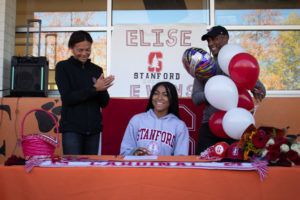 When she joins next fall, Evans will be a part of the first mother-daughter duo to play soccer at Stanford University since women's soccer started there in 1985. Milestones aside, Evans said she made the decision that would most benefit her.
"Stanford has the best combination of athletics and academics in the entire country," Evans stated. "I thought it would be the best place for me."
Stanford's women's soccer team has always been one of the most successful in the United States, winning the NCAA national tournament three times along with over a dozen conference championships. Evans, who is also a defender on the US Under-20 Women's National Team, said all this factored into her decision to play for the 140-year-old college. 
"It was one of the top programs in the country, so I felt that it was gonna help me on the field and reach my goals with the national team," Evans said. "One of my [college] goals is to win a national championship. Hopefully, I can do that at Stanford."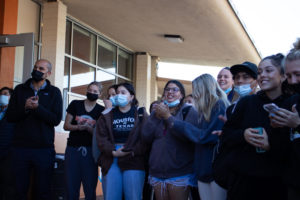 Stanford's proximity to the area, being less than 10 miles down Alameda de Las Pulgas from Woodside High School, was another draw for the Redwood City native.
"I love the aspect of being closer to home so I can play in front of the local clubs that I got to play at and go watch when I was a little kid," she explained. 
Evans also holds the title of Woodside Board of Student Affairs [BOSA] President. Representing Woodside and everything it has to offer is something she heavily prioritizes and says she will continue to do as she finishes off her senior year in Wildcat territory.
"[Woodside] is a great place for all different types of students to accomplish their goals and dreams. I think if you keep working hard, anything's possible," Evans concluded.