Woodside's girls' JV tennis coach Scott Stingel donated the funds needed to remodel the tennis courts.
Stingel, the Woodside girl's JV tennis coach, came up with the idea in the spring of 2021, and construction began in summer 2021. The courts were last done years ago and were in need of refurbishment.
Woodside Varsity tennis player Kaitlyn Delfs is one of the players who benefited from the courts being remodeled. Delfs has played on the Woodside tennis courts since her sophomore year.
"Our courts have been kind of bad as long as I've played on [them]," Delfs said. "There are cracks everywhere. They're super dirty. A lot of the nets were ripped so I was so excited when they said we were going to get new ones."
Delfs appreciates the donation for the new courts.
"They're so clean and so nice looking," Delfs said. "All the nets were super nice and the fences were so straight."
Delfs was happy and thankful for the donation Stingel gave.
"I think it's cool that members of the community step up to provide for a public high school," said Delfs."It's nice that people are willing to give us their resources so everyone could have a better high school experience. I'm very appreciative of Scott for doing that because he is volunteering his time and that's definitely way more than what he gets back."
Stingel donated the funds for the courts as an act of kindness.
"I was looking for a way to give back to my community," Stingel said. "I'm partially retired so I was looking for a way to give back in a general way."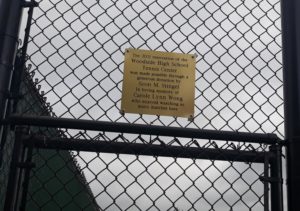 Annabelle Bechtel, a student on the varsity tennis team, also appreciates Stingel's donation.
"I was so excited, I played on the tennis courts last year, and they were pretty scuffed and scratched," Bechtel said. "We were all very excited. We thanked the donor who paid and sponsored us for such a big investment."
Bechtel and Delfs appreciate Stingel's hospitality and generosity.
Charles Velschow, Woodside High School's assistant vice principal was also a part of the remodeling process. Velschow worked on this project alongside Stingel.
"Scott was very hands-on," Velschow said. "He was out there almost every day when they were doing everything from pouring concrete to resurfacing the courts."
Stingel has worked very hard to help Woodside. The girl's tennis team is grateful and appreciative for the new tennis courts.
"Scott is amazing. He's so nice, and we're all so thankful for him for donating such a large amount," Bechtel stated.