Woodside Football Hoping to Bounce-Back this Season
Quarterback still hopeful despite recent losses
Despite a stuttered start to the season for both Junior Varsity (JV) and Varsity, Woodside football is hungry for success this year
With losses to Silver Creek, Aragon, and Cupertino, Varsity went into bye-week with a 1 [win]-and-3 [loss] record, with a win last month against Rancho San Juan. 
"We're depleted in a lot of areas, but we're fighting through," senior and Woodside varsity quarterback Ben Shepard said. "…we felt we've always been really really close [in our games]."
Varsity's last game saw a 26-19 loss at Cupertino in a game that Shepard considered a must-win.
"Overall, the game was disappointing… We needed a win for [a] good morale boost, but we didn't get that, unfortunately."
Woodside has lost almost 10 key players to injury so far this season. Shepard says that although that has contributed to low morale, the team is still practicing well.
"Before Silver Creek, we had really good practices, but then due to a lot of injuries and losing a lot of players, morale has been a little bit low. We've been trying our best to keep that high," he stated.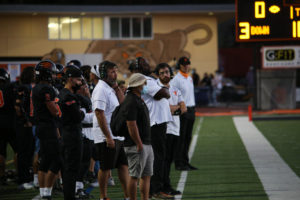 "But overall, practices are very productive. We're getting a lot done; we're installing new plays… we're getting people used to the system, whether… [they] enjoy it or not."
With 5 games left in the season, Woodside are hopeful they can turn the season around, despite some challenging opponents. 
"We really feel like we have a competitive shot… to possibly win the league, [but] the team that stands in our way – San Mateo right now – [is] 3-0, and they're looking really good," Shepard said. 
Shepard added that the October 29 game at Sequoia will be another tough one, mostly due to the popularity of the game. 
"Sequoia is always tough, no matter the big differences in the skill of the teams,  just because it's such a hyped-up game. There's so much energy around the game. Both teams always play way better during that game and Sequoia is also the last league game of the season. So that could be the deciding factor of which team makes the playoffs," Shepard said.
Woodside JV enters their next match with a 2-and-1 record, beating Cupertino 34-14 last month. Shepard says that getting on the path to that winning season would mean a lot to both the JV team and longtime Woodside Head Coach Justin Andrews. 
"We want to end with a winning record, specifically for Coach Andrews and as seniors coming out… Hopefully [we'll] inspire the underclassmen on JV right now who are looking really, really solid… to create a more hard-working, and caring football environment where Woodside can succeed in the future," Shepard concluded.
Woodside Varsity football plays at San Mateo today at 7:00 pm, and their next home game is vs El Camino next Friday at 7:00pm.  
JVs next game is October 14 vs South San Francisco at 4:00pm on Woodside's Bradley Field